After visiting the physio on Tuesday morning I returned home to head out to the gym to complete my planned threshold workout on a machine.
The night before I had put out a shoutout on my running club Facebook page to see if anybody could suggest a nearby gym which was relatively cheap and had a pay-as-you-go rate.  I couldn't believe how quickly my club mates responded and I had a choice of about 7 gyms within minutes!
One of the guys sent me the link to Pay as you Gym which I think is a great idea!  Basically, you sign up and fill in a large medical form online and can then purchase 'credits' for gyms all around the country which you can go to without an induction, and without paying for membership fees.  It's great for people that have to travel for work or might want to use different gyms for the different facilities they have nearby.  Each credit isn't very expensive, I paid £3.95 for my pass for the local gym, but could have paid £17.77 to pay for 5 credits to use within the next month.  When I had signed up a code was texted to my phone which I showed to the receptionist who let me in.
So I completed my 5x5min threshold with 1min recovery jogs on the cross-trainer on Tuesday evening.  Although working on the cross-trainer has never gotten me out of breath before I was incredibly sweaty by the end of my session and felt I 'hit the wall' on the 4th set.  I've never felt quite so empty and energyless on a workout!  I made sure to really push myself though.
Yesterday I decided to mix things up.  My friend Jenny had set off on her honeymoon and left me the keys to the yard where her horse Fella, is.  It's about a 40min walk from where I live.  It was a nice day so I headed down, taking my riding hat with me and intending on getting out for a ride.
However, I hadn't realised quite how much poo Jenny had left in his field, so instead spent 40 mins poo-picking before rubbing some fly spray over Fella's face and checking him over and then heading back home again!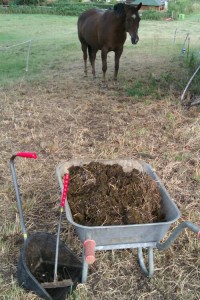 Poo-picking is actually a sweaty workout!  Especially when the ramp to the muckheap is slippery and slidy and you have a heavy barrow of muck to get to the top!
I headed back to Norfolk yesterday after getting back from the yard as it is my Dad's birthday today.  I made us both a healthy, colourful salad for when he returned home from work.  I like my salads to be filled with lots of variety and this one definitely included that with a tomato, cucumber, cheese, coleslaw, celery, pepper, carrot, lettuce, red onion and bread and butter.  Yum!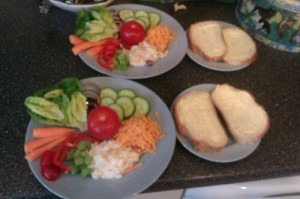 After dinner I checked the woodshed to hunt out an old bike for my '30 min easy run' replacement.  Luckily one of my brother's old bikes was still rideable, although covered in cobwebs and with flat tyres!
Despite my ultimate fear of spiders I managed to get the bike free and Dad pumped up the tyres for me.  My brother's quite a bit taller than me and I couldn't reach the floor.  It's been a long while since I last got on a bike and I found myself feeling like I was seven years old again and learning to ride, wobbling all over the place until I got to the end of the road!
Most of my ride I spent praying nobody would come past me in a car, as there wasn't much likelihood of me being able to stop.  My face was covered in flies, and I couldn't lift my hand long enough to scrape them off.  What happened to the girl that used to be able to bike to her Nan's three roads away completely no-handed on the bike?!
My parents live out in the sticks and luckily I only passed one car on my ride.  The one car being a police car that I was sure was going to pull me over and address me on the safety issues I wasn't following on a bike that was too big for me.  Luckily, he saw that I was having issues and pulled right over onto the side for me!  I tried to thank him by lifting my hand, but after a wobble, this ended up being a thank with an over-emphasized nod of the head instead!
My bum finally started to show a bruise from the physio last night, so sitting on a bike seat for 30 mins probably wasn't the best form of cardio I could have partaken in!
I can run again today so fingers crossed when I test another 30 min easy run tonight it goes well…come on glute, you must be OK by now!…