Top of my to-do-list for today is to email the headteacher for details of the school website DNS so that I can set up Google Apps for Education for my new school.  In this case DNS stands for Domain Name Server.  But it also got me thinking about the other DNS.  The DNS of the running world.  Did Not Start.
I will be so, so disappointed if I am a DNS at the Dusk 'til Dawn in October.  I know I still have nine weeks yet, but I have to run 50 miles on that day!  Not just one marathon…almost two!  I feel like I've been given this amazing opportunity through getting a place as part of Operation Ultra and my body has really let me down by failing now.
I went for a 20-25 min easy run last night as directed by Paul when I saw him on Tuesday.  I had discomfort from my very first running step and this morning he sent an email asking me to head down to Waterloo for an MRI, so hopefully tomorrow that is where I shall be.
I want this problem sorted and I want to get back to training again now please!  Thanks Jess for the shoutout yesterday! The more people crossing their fingers, the better! 


I was actually really upset this morning, this was the last thing in a long line!  Dan has had issues at work over the last few days, his workplace had agreed a large pay-rise from this September back when he started his job last year, however, now that the time is almost here they weren't going to pay out the full amount for his salary and only wanted to increase his salary slightly for the time being.  All of his reviews have been excellent and he has had nothing but praise since beginning the job so it seemed really unfair that they weren't going to pay out.  Luckily, after several meetings over the last few days, and a final one with his big boss this morning it has now been agreed that he can have the original salary as planned from September.
Although I'm really upset about not running at the moment, being back at my parent's over the past two days has put things in perspective for me.  Although it's my Mum that's seriously ill it's my Dad that I'm mostly worried about at the moment.  He is tired, absolutely exhausted taking Mum to hospital trips several times a week (over an hour in each direction), visiting my sick Aunt in a different hospital (over an hour away in a different direction), working on a renovation house which he is looking to sell soon and just generally trying to keep the household going.  He was close to falling asleep at the dinner table on Wednesday night.  I'm doing everything I can to help when I'm back but then I feel that I am not seeing Dan often enough.  No winner!
I spent four hours yesterday carting wood into my parent's woodshed throughout the day.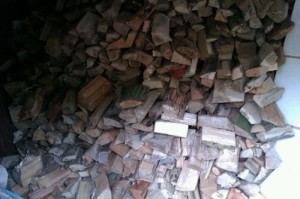 This was the most sweaty and satisfying workout I've had in ages!  I saw loads of random wildlife whilst doing it too…This caterpillar…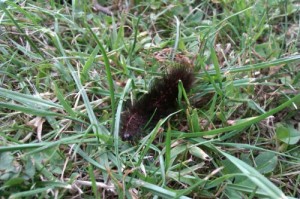 This beetle…is this a woodbeetle?…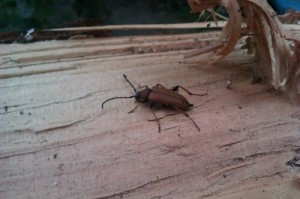 And this toad in a load…!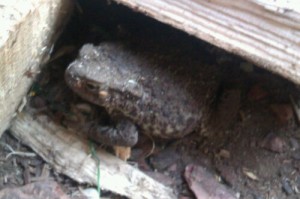 Stretching afterwards was made impossible by Blue, my parent's dog.  He is worse than Bella.  At least when I'm stretching near Bella she just curls up on my tummy – extra resistance for core work!  Blue wants to jump all over me!  And he's HEAVY!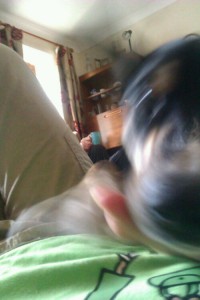 Yesterday was Dad's birthday so in the evening we all went out to Spoons for something to eat.  We can sit outside in Spoons in the beer garden, as Mum is still being cautious about her immunity levels at the moment.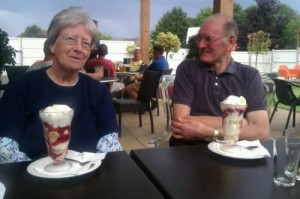 My brother was there earlier on too, but had to leave promptly before dessert for work.  On this occasion I bypassed my distaste of bananas to try this Berry and banana sundae that my parents both wanted.  It was really nice!
I also baked Dad a cake earlier on in the day for him to find when he got home in the evening, after I had returned to Northants.  It didn't look that great as it was a rushed job in the end with all the wood carting, so it was probably a good job that I forgot to take a picture of it!
Apologies for a not very jolly post.  I promise tomorrow I shall be more positive once more!