I was clearly not in the most jolly frame of mind on Friday when I last posted.  And whenever there's something up I always end up struggling with my eating and don't feel very hungry.  People tend to go one way or the other don't they?  They either overeat or 'forget' to eat.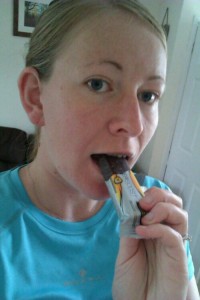 When I had tried a short run on Thursday evening after returning from my parents I had felt much more discomfort than on my previous runs and from the very first running step, so after emailing Paul the physio he suggested I book in for an MRI scan, which required lots of ringing round and organising and stressing!  Resulting in me not eating properly on Friday, and not getting to bed very early either.  Yesterday I hung around for ages in the morning before heading down to the gym around midday to get in the 5x5min hill reps with 2min recovery on my plan which translated into 5x5min hard sessions on the cross-trainer with 2min recovery sessions between each rep.  I had promised Dan I would grab some food before leaving as even though I had been up for five hours I hadn't fancied anything up until then.  Purely because I promised I would I grabbed a MaxiFuel Viperboost bar.  (Love these bars!)  So here is a pic as evidence that I ate!  (When I showed Dan later in the day he told me it was the second worst picture he had ever seen of me!  Clearly he hadn't yet seen the picture of my big hair further in the post!)
It was quite similar to the workout I completed on Tuesday but from the very first set I felt like I had limited energy and although I knew I would be able to continue the workout I also knew it would be at a much less effort than I was capable of.  By the end of the workout I was fully covered in sweat and I had travelled about 0.7km less on the machine than when I completed the workout on Tuesday.  That'll teach me not to skimp on my nutrition just because I'm in a bad mood!  I vowed not to forget about food again!
The gym I've been using this week is currently being revamped, and right next to the cross-trainer I used on Tuesday they have since installed two Power Plates.  There is a big chart behind them showing lots of different moves you can complete on them and the benefits of using the Plate, but I still watched with hawk eyes anytime anybody approached them with the aim of picking up tips.  Not many people did though, despite paying lots of interest to them.  I guess they were hoping to do what I was doing as well!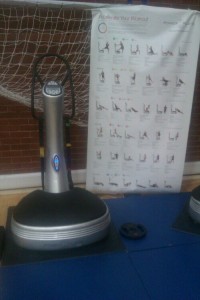 THIS is how big my hair gets if I bung it up in a ponytail for training without doing anything to it first.  MASSIVE!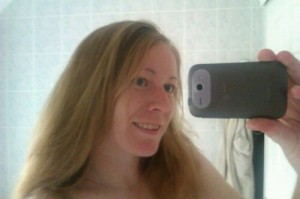 Dan had had some birthday money last week which he wanted to buy some new clothes with this week, so after a quick shower we headed out in the car through the rain to Cambridge for a mosey.  I didn't NEED anything as such, although did pick up some new school shoes from New Look which will be handy in a fortnight's time.  I also had a hunt out for an aqua jogging belt but with no luck.  I wonder how many shop owners went home last night and googled what an aqua jogging belt is because they gave me some pretty confused looks!
On the way back to the car we passed a jewellers and I suggested to Dan that we stop in to see what size ring he would need for when we purchase our wedding rings later in the year.  He is an R.  I am an O.  We both tried on several.  With the shape of my engagement ring we both felt that I should have a wishbone ring to fit around my engagement ring and this one was the favourite for both of us.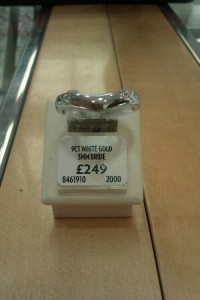 Should have taken a picture of the two rings together!  We both also agreed that Dan looked best with a 5mm gold ring.  Again, should have taken a picture!
I booked the hairdresser for our wedding the other day and our Save the Date cards have arrived which we designed ourselves so we now need to finalise just who we would like to come to join us on the day!