With the weather being so nice on Monday and Dan being off due to the Bank holiday we decided to pack up a picnic and head to the lakes for a bike ride.  We rented bikes for £6 for the hour and ended up biking about 10 miles.  (I only know this from running the route previously!)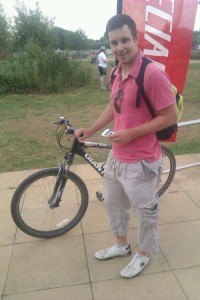 Unfortunately (or fortunately!) I never got a picture of me out on the bike.  About 40 minutes in we stopped on a bridge to grab a quick drink from our packed up picnic.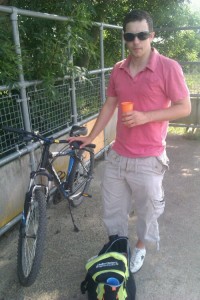 And I took some pictures of the views whilst Dan packed up the cups.
Once we'd returned the bikes we found a spot with the perfect amount of sun and shade and sat down to enjoy our picnic.  We'd gotten a little over-ambitious with the amount we'd packed and couldn't finish it all, so the rest then became our tea later that evening.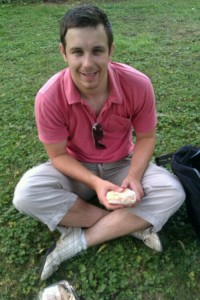 Dan dropped me off at the stables on the way home and I took Fella out for an hours walk, although he was a pain as there were lots of bikers out in the nice weather and he did a few spins on the road at one point so we turned around and went home again.  I would have continued had he been my horse, but being someone elses it always makes me edgy.
I got Dan to come and pick me up from the stables (a couple of miles away) as my leg was aching by this point and I had long since completed my 30-45min recovery run equivalent for the day.  I didn't want to aggravate my leg further.  Dan suggested we finish the day over in the beer garden at our local, which we did.  It was so nice to get out together and have no laptops or phones to distract us.  Sometimes I think these can ruin a relationship.  We always try to fit in at least one 'date night' a week where phones and laptops are not invited!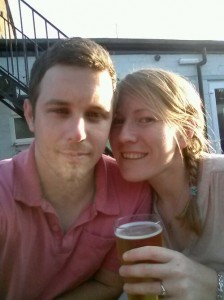 Yesterday I woke up early to head into work with Dan.  It worked out about £25 cheaper to travel to London from Cambridge than it did my local station and I had an appointment for an MRI scan at 12pm at Vista Diagnostics in Waterloo.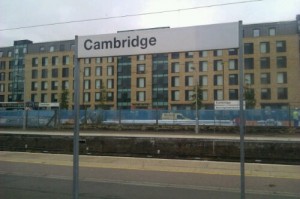 First problem of the day: my train was cancelled!  Luckily I had arrived at the station early enough to catch an earlier train.
Next problem of the day: when I arrived at VD they told me that they currently had no power and had not been able to complete any scans all morning.  I could wait if I liked.  Glad I did, as the engineer they had out to fix the problem solved it within minutes and my appointment was only 20 minutes late.  I was taken through to a cubicle to change into a hospital gown.
Once in the scanner room I climbed onto the bed, was positioned in place, had a pad placed across my hip, was handed a ball to squeeze in case I needed to talk to anyone on the outside and told not to move to prevent blurring on the scans.
They also put a set of headphones on me and told me that they would block out the loud noises of the machine.  They played some rubbish music and I was trying hard not to resist throwing them off my head when the machine started up with the noise and I was glad of the headphones to partially cover up the sound!
When someone tells you not to move you are left feeling like you MUST stretch or fidget or at least brush your hair from your face.  I tried to concentrate on the scratches in the ceiling of the machine.  Wondering if people had tried to claw their way out in the past!
Within minutes I think I must have fallen asleep and I vaguely remember coming in and out of consciousness over the next 30 minutes before I was pulled out of the machine and asked to change back into my clothes and head back to reception where I was handed my images on a CD and told that I would be receiving a full report of my scan findings within the next 48 hours.
It ended up being so quick and efficient that I even managed to catch an earlier train back and finish off my book 'Mockingjay' by Suzanne Collins.  The third in the Hunger Games collection.  I loved the first Hunger Games film and had been desperate to see it at the cinema after watching the very first trailer last year.  Whilst I was on a school trip to Africa last Summer I got through the first book in less than 24 hours!  The second one taking me not too much longer once I arrived back in England at the end of August.  I hadn't managed to find the time to read the third one until just recently though and I was not happy with the ending. 

  About a chapter before the end I knew there would be no ending I would be happy with any more but knew I had to finish the book.  Has anyone else read the Hunger Games books?  What did you think of the ending?…
I fell asleep on the drive back from Cambridge.  (Sorry Dan!)  And after a quick gym session I checked out the photos on the CD at the same time as checking out the new issue of Women's Running mag with more pictures of us Operation Ultra runners inside…
Now I just need to wait to hear the result of my scan!