This post will be short.  I've stolen Dan's laptop whilst he is watching the football transfers on the TV.  My laptop charger broke last Thursday and I haven't been able to use it since; hence the lack of posts, comments and reading of blogs over the weekend!  A new one has been ordered, so expect me back full time in 3-5 working days!
Thursday: Geocaching with my friend Vick, her boyfriend Alex and her friend Hadeel, followed by lunch, a catchup and then golf!  (I was RUBBISH!)
Friday and I was headed to Nadine's Bridal Boutique with my Mum for a wedding dress hunt, which after two and a half hours of playing dress-up I FOUND!  (It was actually the very first dress I tried on!)
Saturday brought more wedding fun as I met up with two of my bridesmaids, Hollie and Amanda to check out a new wedding shop in town, which we followed up with hot chocolates, lunch and lots more gossiping and plenty of laughs!
The wedding madness wasn't over, as on Sunday I headed to The Haycock Hotel with Vicki, who's having her wedding there in 2015 and they were holding a big wedding fayre there this weekend.  This is the first wedding fayre that I've had to pay to enter (only £1.50) but it was honestly the best wedding fayre I've been to as well.  There was loads to see, and we even got to sneak into the bridal suite as the cleaners were in whilst we were walking past!  I got plenty of ideas from the rooms that were set up…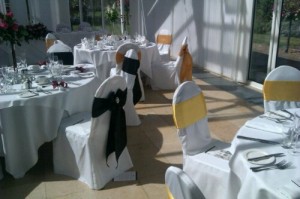 …and I even blagged us all a ride in the horse and carriage! Can't wait to arrive by horse and carriage at our wedding next year!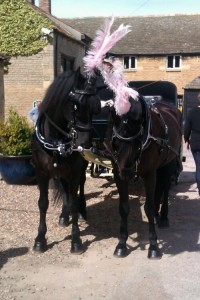 In running news I have been declared fit to run with a diagnosis of tendinitis and my running plan for the first half of the week looks like this…
MONDAY: 30min easy
TUESDAY: 45min easy
WEDNESDAY: 45min easy
THURSDAY: 90min easy with last 30mins including 4x6min at threshold pace with 90sec jog recoveries.
Phoebe's going to see how I get on with training the first half of the week before working out a plan for the rest of my runs but (touch wood) I SHOULD be racing at Bristol half next Sunday! 

Now I best return Dan's laptop and head to bed as I start at my new school tomorrow and know it will be a super busy day with lots to take in!
Night all!