Months and months ago way back in March(?) I was awaiting three things…
1) To see whether or not I had got a new job
2) To see whether or not I had gotten into the Royal Parks half marathon
3) To see whether or not I had gotten into the Great North Run
I had a phone call later on the day of my actual interview to discover that I had not gotten the job, and an email to say that I also would not be running the Royal Parks half.  However, my email regarding the GNR said that I had a place!  I was happy with 1/3!
GNR was going to be my sub 2hr half marathon.  I'd not specifically trained for a half before, only really training for my two marathons and that was it!
I ran a 1h 34m 10miler last Winter, which translated into a 2h 5m half going by McMillan's Running Calculator (a handy little tool!)  I thought, with a little more training I was sure to get a Sub 2h half by this Autumn.  And then I entered and won a place on Operation Ultra and I knew my target would go out of the window!
As part of Operation Ultra we have been given free entries to Bristol Half Marathon on the same day as the GNR.  Then I had a dilemma.  I was so excited about getting a place in GNR, and Dan was really excited for me too.  We had booked a hotel and planned a weekend away.  I actually didn't even tell him for the first couple of weeks that I had a place at Bristol half.  We weren't MADE to take the place, but I knew I would definitely be thankful of meeting up with the other Operation Ultra runners so far into our training to compare notes and discuss our training.
Dan left the decision completely up to me in the end and the day before I had to decide whether or not I was going to take up the offer of the Bristol half place I decided that I would run Bristol and defer GNR for another year.  As part of our place we have accommodation in the hotel with the elites, as Phoebe and Nick, our coaches are commentating at the race.
I deferred my place for the GNR to next year, although it has cost me £50 to do so!  I was sad to put my deferral form in the post but it had to be done.  GNR can be run another year.  The Operation Ultra Bristol experience would not be the same again.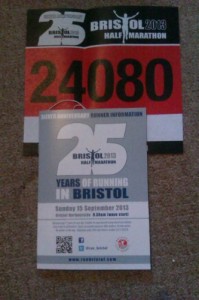 I haven't had my training plan through for next week yet, as Phoebe is running a couple of days at a time for me at the moment following my injury.  From talking to the guys though, they all have to run 90 minutes before the race begins to fit in their training for the day!  No chance of a Sub 2h5m, let alone a Sub 2h after three weeks of not running and possible miles being added to my total!