Over the Summer, BP ran a promotion whereby if you filled your car with £50+ of fuel they would hand you a Pizza Express voucher. Collect three vouchers and you could then trade them in for a code which, when presented in Pizza Express would provide 'payment' for a set of garlic dough balls starter and a main course of your choice.
With me driving back to Norfolk frequently over the Summer and Dan driving 90 minutes to work each way five days a week we managed to collect several vouchers whilst the promotion was running.
We have been trying to save money lately with the upcoming wedding but still definitely deserved a date night this week so last night we used a code each and headed to the Pizza Express branch in Huntingdon for a cheap meal out.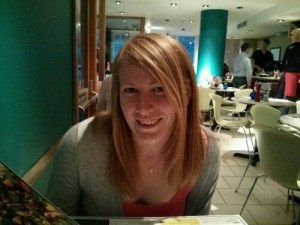 Both lovers of garlic, we munched down on the DoughBalls super quick, and before I could grab a photo!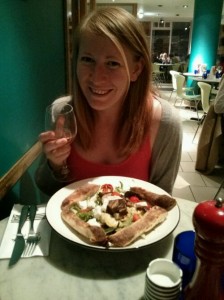 For the main course, I was tempted by the Padanna Leggera.  All of the Leggera pizzas are rings of pizza, the hole in the middle filled with rocket salad, santos tomatoes and shaved ricotta salata, finished with a light house dressing and parsley.  And they all clock in at under 500 calories.  The Padanna is topped with goat's cheese, caramelised onions, spinach, red onions and garlic oil.  Anything containing goat's cheese or garlic is a winner for me but there wasn't quite enough veg involved for my tastes, so in the end I went for a Warm Vegetable & Goat's Cheese Salad.  This had plenty more veg: 'Chargrilled Italian vegetable salad of warm aubergine, red & yellow peppers, santos tomatoes and marinated artichoke with soft goat's cheese, roasted tomatoes, cucumber, Italian lentils, seasonal mixed leaves, basil and mint.  Extra virgin olive oil & red wine vinegar dressing and warm dough sticks.  I do like a salad with lots of variety!  This might actually be in my top 5 meals out of all time!
After munching down our mains.  (Dan just had a regular American Hot pizza) we both decided we could do something sweet.  Dan hardly ever makes it through three courses, so I jumped at the opportunity to have a dessert.  As we were planning on sharing I let him pick from the menu and he went with the Chocolate Fudge Cake, which was super fudgy and came with icecream and a strawberry which I nabbed as soon as it arrived at the table!  Not sure I could have managed a whole one on my own, but I do like to have something sweet at the end of a main meal.
Normally when we head out for dinner I struggle to eat a full main course, and often order two starters, or a starter and a side for my meal.  If I go out with friends I often like to share a dish.  If I am heading somewhere new I frequently look up the menu online to see which would be the most nutritionally satisfying meal for me on the day.  Pizza Express is one of the few places that seems to have the balance just about right,and they offer lots of choice in their meals without becoming 'boring' or offering a plain house salad as their 'healthy option'.  My Dad is a big fan of pub meals which include as much as you can fit on one plate for as cheap a price as possible, but I hate feeling over-full after a meal.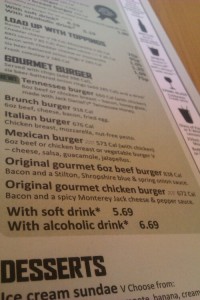 For Dad's birthday a couple of weeks ago we went to the Wetherspoons that has opened up not far from where my parents live.  Wetherspoons has done a great job of including calorie content for all of it's meals on it's menu, but it always shocks me just how many calories are in certain dishes…For example, I could choose 12 BBQ chicken wings (553 calories) as a starter, have a Full rack of ribs with coleslaw, beer-battered onion rings and chips (2216 calories) for a main and follow it up with an Ice cream sundae with Belgian waffle, maple-flavour syrup and cream (846 calories) to create a total three-course meal calorie consumption of 3615 calories.  Without adding any drinks calories on top!  In one meal, in one sitting!  I'm not sure who can justify eating 2216 calories in a main course when the average suggested daily intake for a female for a whole day is 2000 calories!
It's great having calorie count in menus, but what about all of the other content in the food that matters – carbs/protein/fat…  People can be eating the right amount of calories but their food choices to do this can be awful.
Meal sizes are often way too large when eating out.  No wonder Britain is struggling with an obesity epidemic at the moment.  People are led to believe portion sizes should be much bigger than they actually should be.  65% of men and 58% of women are classed as overweight or obese!  As a school teacher, it also worries me that children are being brought up to follow the same nutritional values as their parents and nearly 1/10 children in reception classes are classed as obese.  They are some incredibly scary facts.  I've spoken before of my annoyance at how six year olds at a friend's daughter's dance rehearsal were chugging back bottles of Lucozade before pottering around the hall.  Lucozade isn't necessary for six year olds!
Something else that the Wetherspoons website has which I feel is positive towards change is the Build Your Menu page.  It has several different selectors to choose if you are looking for low fat meals, trying to get in your '5 a day' of fruit and veg and just how many calories you want to consume.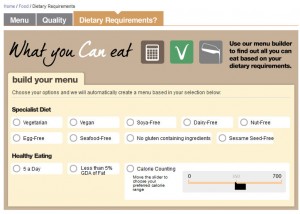 Seeing calorie content on the Wetherspoons menu made me more aware of what I was putting into my mouth, although I know this won't have the same affect on everybody.
Do you read menus online to choose what you are going to eat before you head out?
Does seeing calorie counts on a menu affect your choice of meal?
What other restaurants include calorie counts on their menus?