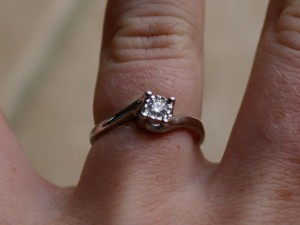 When I got engaged, back in May earlier this year and we began talking about budget for our wedding I naively thought that we would be able to come in at <£5000 with all but the cost of the honeymoon after hearing others getting it in under this amount.  Well, they were clearly wrong.
There is no way they got their wedding under £5000!!!
Apparentally the average UK wedding comes to more than £18000 now!  (Source)  We're not receiving any help with costs, so that would be an unrealistic (and crazy) amount for us to save and spend in one day!  A friend who is also planning her wedding at the moment is budgeting for £20,000 and if it goes over, 'it goes over'!  I do not have that mentality when it comes to that much money!
We have tried to involve as many family members with preparing for the day as possible.  Not only will it hopefully bring our families together, but also save on the cost of the day itself.  My Mum and Great Aunt Mary will be growing the flowers for the day as they both have large gardens and an interest and knowledge in floristry.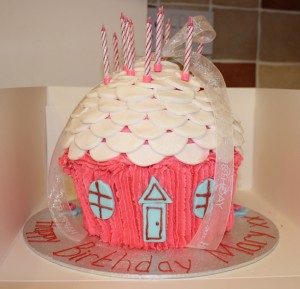 Dan's Mum has produced some fantastic cakes in the past (look to the right to see the birthday cake she made for me right after I moved into my new house) and has offered to make our wedding cake for the day.
Rather than pay for an expensive venue, we have hired a Village Hall at a cost of £280 with a lot of outside space and booked a marquee to extend the dining area for the day.  We will also be making all stationery and decorations ourselves to keep costs down.  Both comfortable working in design, we photographed and composed our own Save the Date cards and I plan on a few crafty nights with my bridesmaids to put together the actual invitations at the start of next year.
Here are our top costs so far:…
#1: Catering – This is based on three courses at a sit-down meal for eighty-eight people, so could change depending on final numbers.  Initially we were planning on having a hogroast in the evening (Mmmm, hogroast!) but to cut costs we will now be putting together our own buffet which close family members will assemble for us in a seperate room later on in the day.  £1716.00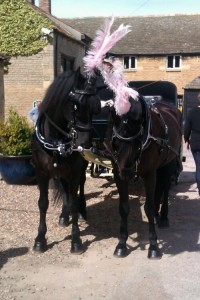 #2: Marquee – to be set up on Friday and taken down on the Sunday.  This cost also includes 8 tables and 88 chairs, lighting, matting and drapes.  And also a starlight ceiling for the evening which came as part of the package.  £1521.36
#3: Photographer – this is a friend of a friend and she was photographer at my Maid of Honour Hollie's wedding back in 2009.  She has actually thrown in a few extras for us and we shall receive a DVD with all images on after our wedding which was something that was important to us. £1025.00
#4: Wedding dress – I wasn't sure what would be a 'sensible' amount for a wedding dress, but two weeks ago, I found my dress and this is the amount I will be spending.  £710.00
#5: Horse & Carriage – The one 'luxury' item on our wedding day and the one thing that whenever I imagined my wedding it would include…horses!  £500.00
So, with the top five costs of our wedding, and not including; stationery, suits, ceremony costs, pianist, reception venue, alcohol, evening food, thank-you gifts, favours, decorations, wedding night accommodation, a band, rings, veil, shoes, hair, make-up, bridesmaid dresses or the honeymoon we are already spending £5472.36
They are actually accepting applications for the TV show 'Don't Tell The Bride' at the moment.  For those that have never seen it it the idea is that the show gives one lucky couple £12,000 towards the cost of their wedding.  The hitch is that the bride leaves the groom for three weeks and cannot get in contact with him or have any part in planning the wedding day.  Usually, the couple have only been together a few years and have completely different ideas about what their wedding should be like…Resulting in entertaining TV.  Now, I would never go on this show but it does frustrate me how wrong the grooms get it every time.  £12,000 towards the cost of the wedding does sound appealing and I am pretty sure that Dan knows exactly which elements of the day are important to me (getting married in the church where I grew up and having a horse and carriage to arrive in) and what he could adapt (pretty much everything else!)  I'm pretty sure he would even choose the dress I chose myself.  How do the grooms on the show get it so wrong?!
A quick shout out on Twitter earlier today resulted in Mark suggesting that I save costs by letting Dan plan the whole thing.

Great, except I'm pretty sure he has more expensive taste than me and is much less money-savvy!
Laura suggested cutting guest numbers down.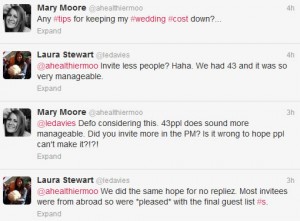 And this idea is much more workable.  We've already been told of four people that cannot make it.  Two already attending weddings on that day, one child who will be left at home and an Aunt who would rather not be there.  This takes us down to 82 guests, including about four small children/babies.
Any further tips for money saving at our wedding?…
How many guests were at your wedding and how did you work out who to cut?!…
And, if you're comfortable sharing, how much did your wedding come to in total?…