Today was an exciting day…Today a little email popped into my inbox inviting me to sign up and attend Write This Run II!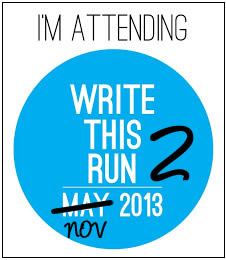 If you love running (tick!) and you love blogging (tick!) and fancy meeting some like-minded people (tick!) then head on over to the Write This Run website and sign up for a place at their next conference based at The Running Show down in Sandown Park Exhibition Centre in Surrey in November.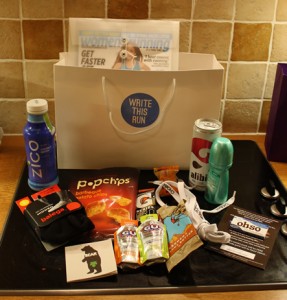 Along with some fantastic motivational speakers and a superb goody bag (I can vouch for the bags in May!) is:
A pass to the Running Show on both Saturday and Sunday
Entry into the Running Show 10k race on the Sunday
An invite to the after-show get together!
I've heard places are going fast, so sign up soon before the places all disappear!  After meeting lots of fantastic speakers at the first event, I can't wait to see who is coming to Event #2!
If you want to see what I thought of Write This Run #1, check out my blog review here…
In other news I had a fantastic run yesterday!  One of those runs where you feel all smug and happy with yourself on return!  One of those runs where it got super tough but you stuck with it till the bitter end and you definitely deserved that piece of chocolate/bubble bath when you got home.  (I had both!)
It was a pretty simple run written into the plan…60 minute run to include 3x 10mins at threshold pace with 2min recovery jogs inbetween each rep.  After such an awful run at the weekend I wasn't looking forward to this run at all and set out waiting for the pain in my glute or back to kick in.  When it hadn't done so after 15 minutes I kicked off with the first threshold block.  I probably underestimated my pace for the first block, coming in at 9:20mm pacing.  It's been a very long while since I completed a 10 minute block at threshold pace and wasn't sure just what I could maintain without blowing up before the 10 minutes was up!  Round two…still no pain from any part of my body, so I pushed just a little faster.  Excellent.  Willing the 2min jog recovery to go quicker so I could see if I could push it a little more.  My last rep was sub 9mm.  Much slower than my 5k race pace, or at least much slower than my 5k race pace had been pre-injury and pre-ultra training, but I was basing my speed on feel and I felt like I was pushing just the right amount; ready to steady up for a recovery jog the second my watched ticked over to 10:00 for the final time.  I literally couldn't stop smiling the rest of the way home and might have done a private air-pump as I came down the last road!
I love runs that go well and definitely must remember in the future that for every run that has gone badly, there's a run to come that will make me feel so great I will forget the bad runs!