My new teaching job is incredibly draining!  Despite now only working three days a week in school, I teach solidly from 9-4, without a break, with my 40min lunch breaks taken up with patrolling the playground and being on constant child-watch!
Working full time in a state school was tiring, but I cannot get over how utterly draining working part time with just a handful of students in each class is.  I have to plan a resource for 2-3 people, rather than 90-100 people each time and I need to constantly keep the students fully engaged with the lesson.  I think they're feeling drained this week too; the first full week back as my last two classes today barely uttered sentences at all and it took a lot of prompting from me to get responses from them.
Anyway, with so much on my mind I couldn't sleep from 2:30am this morning, and instead used my early start to build a program the kids need to create as part of their Computer Science coursework.
To a non-ICT teacher, this will look pretty boring…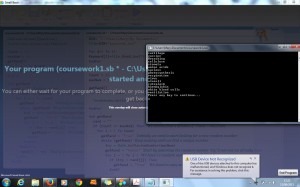 But to Me, this is what I slaved over for three long hours in the midde of the night, while Dan and Bella were both tucked up in bed upstairs.  As were probably most of the rest of the UK!
I had another great run last night.  Threshold sessions are becoming favourites of mine!  This one was a 60minute run to include 4 x 6 mins @ threshold pace with 90s seconds jog recovery inbetween each effort.
I've had my plan through for the weekend and as feared, I am down to run a 90 minute run at super easy pace before taking part in Bristol half marathon with the rest of the Operaton Ultra crew.  My pace for the race is down as 11mm.  It actually feels like some of the pressure to perform has been lifted now – I have been told to run slowly, therefore I am not a failure when I do so! I put too much pressure on myself to perform at my best every single time.  The lack of pressure will be quite nice this weekend!
On my days off at the start of the week I thought I had better make an effort to be a good Fiancée as Dan had picked me up some flowers for the first day at my new job last week and I hadn't done anything nice for him in a while.  I decided to make him a Chocolate Chip Cookie cake after reading that Heather had just made one on Tuesday.  I was so impulsive in fact, that I don't think I had even finished reading the blog post before I was checking my cupboard for ingredients!
Here is the beauty I created pre-baking…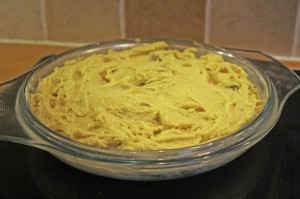 …and this is how it turned out!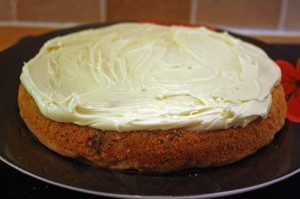 Unfortunately I never got a 'cut' picture as it disappeared from the fridge too quickly!  Despite the cake actually being quite sickly when too much was eaten at once.  Small slices were the way forward!
I searched for a few recipes online, but all of them seemed to be written in cups and with ingredients I didn't have, so with a few tweaks I *loosely* threw the following into a big mixing bowl…
* 120g butter
* 100g caster sugar
* 260g plain flour
* 1 egg
* sprinkle of baking powder
* 3/4 bar of chocolate, chipped into pieces and stirred into the mix
Then popped into the oven for 20 minutes on 180º.  It was still a little squidgey on the top when I took it out so I quickly whipped up some buttercream icing, laid this out on the top of the cookie cake and placed in the fridge.  The fridge worked wonders for the texture and we were able to cut the cake after just an hour.  Dan clearly approved, as there is now none left!
I always find it super frustrating when my Pinned recipes are written in 'cups' and Farenheit and have been pulling up the Google convertor each time something pops up in a recipe I'm baking.  I decided to make a graphic to place on the background of my laptop – to hand for when I am next baking in the kitchen.  Hope it helps someone else!