Yesterday I ran the Bristol half marathon along with the rest of the Operation Ultra runners (Paul, Peter, Neale, Anne Marie and Lynda).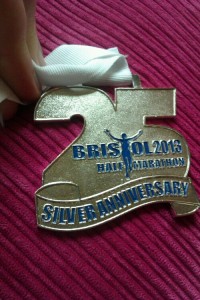 This race was challenging for me for many reasons…
1) It was the first race where I have ever stayed over the night before and had to think through in advance just what items I wanted with me on race day.
2) I have just come back from three weeks of very little running following an injury so had no idea how my glute/hip would hold up.
3) We were instructed not to 'race' the race, but rather to run it at marathon pace.  I wasn't really sure what this pace was anymore for me but I had a rough idea in my head that I was going to run it at 11mm.
4) We also had to run for 90minutes BEFORE the race began!
So I wasn't really sure what to expect from the day!  Here's my thoughts on the build up to the race starting on Saturday…
Dan offered to drive us both down to Bristol (as I'm rubbish at navigating in the car!) and we set off on Saturday afternoon.  The forecast wasn't good for the weekend, with lots of rain and high winds heading our way and we wanted to avoid those if possible!
All Operation Ultra runners stayed in the Mercure hotel in Bristol, which was also where several elites were staying, along with the organisers, and the commentators Nick and Phoebe, who also happen to be our coaches!  Through them we were each given a free place for the half marathon at no cost to us as part of our Operation Ultra winnings.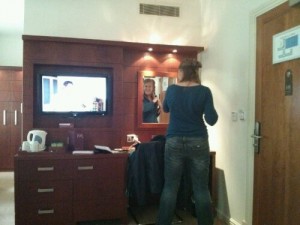 (Random picture of me getting ready in the hotel room!)
When we arrived on the Saturday evening, after settling into our room we all met down in the bar and managed to grab a quick catchup on how the last eleven weeks of training has gone for each of us.  It was so nice to sit and chat running to others who have been working towards similar goals to me.  We've all kept in touch over Twitter, but it's just not the same!  A little after 6:30pm we were ushered upstairs where a buffet of pasta, salad, baked potatoes and bread (amongst other things!) had been laid on for all elite runners, Running With Us clients, race organisers and us six Ultra runners.  A few speeches were said, including one mentioning us, and after a quick bite of grapes and cake for dessert we took ourselves back down to the bar.  Phoebe and Nick joined us here to chat about our progress and expectations for the race the following day.  They bigged me up for plowing through the training, despite being injured and taking my training to the gym instead of giving up or slacking off and losing interest.  They really made me feel proud of my hard work!
They also brought over several more experienced ultra marathoners to talk to us, including Holly Rush, a 2:37 marathoner who has recently converted to ultras and Simon Freeman who has recently completed the UTMB CCC and who answered my questions about running through the night.  It was fantastic talking to so many people that have achieved so much and who clearly have so much interest in the sport.  We all had lots of questions to ask.  Even Dan, who was our honorary seventh Operation Ultra member for the weekend!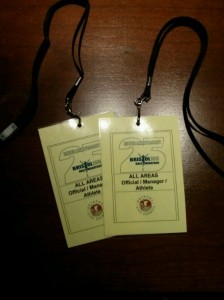 Before bed we each received backstage passes for athletes and people of importance (of which I was neither really!) to enable us to sneak straight through to the start upon completing our pre-race run.  Dan was excited to pick one up too as he had the important task of transferring all of our nutrition/after clothing to the HQ and bringing us what we needed.  Pretty bulky and not the easiest to wear whilst running but in the end I managed by tucking it in between my running top and race vest.
I struggled to sleep the night before and woke up repeatedly to several variations of the same race-day nightmare from 2:30am onwards, and was rather glad when my alarm went off at 6:15 signalling that I could finally get up and ready for breakfast.
Before a run I usually grab a toasted bagel with peanut butter but that option wasn't available at the hotel so I had to settle for the closest thing, which ended up being a hunk of french stick with Flora on top!  I was worried about over-eating and having the food sit on my stomach throughout what I estimated would probably be about 4 hours of running so didn't want to take too much and instead, packed one of my favourite Maxifuel bars for after the 90 minute morning run and a gel incase I needed it on course.  Forgot completely about jelly babies.  These have become my staple race food and I have often been found to mug small children for the jelly babies they bear. (Including during yesterday's race!)
After a quick photo shoot with the six of us outside the hotel (Photos to follow when I receive them!) we headed off with loose instructions on how to get to the start line (about 10mins away) and then to run very slowly the first four miles of the course and back, before queue-jumping and finding a spot in the first wave.
All but Lynda and I were due to run in the first wave anyway.  Lynda is a Sub 2hr half-marathoner so could hide amongst the faster runners with ease.  My predicted time for the race at 2:15-2:30 was a little more difficult to disguise in the wrong pen, but Phoebe told me to go ahead and do it anyway, as they wanted to interview us all together at the end of the race and wouldn't be able to do so if the race not only took me 2h30, but I started half an hour after the rest of the group!
I really enjoyed the pre-run with the other Operation Ultra guys and girls.  We all jogged steadily to the start line together, with various banter between us.  Waiting for watches to find signal before Peter collected his number and we set out along the route.  I quickly fell back behind the others, but I could still see them in the distance and I wanted to stick to a comfortable pace.  It had been a long while since I ran anything near to four hours in one block before and although I knew I would get through it, I wanted to make it as pain-free as possible!
As the others sped off infront it gave me the chance to work through each area of my body and check that all was working OK as it should, and to take a picture of the suspension bridge on the route.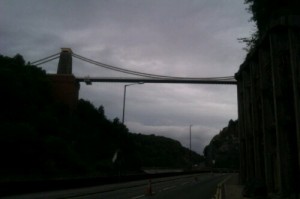 Marshals were beginning to head out onto the course after their pre-race briefing and several stopped to talk to me on my run as I was already displaying my running club vest and race bib.  I also had several mutterings from passers-by that I was warming up too early, nearly two hours before my race start time.  I ignored these people.  One of the lovely marshals near my turn-around route asked several questions about why I was running so early and which ultra I was running.  Later, whilst out on the course she spotted me, pointed and shouted "Yay!  I've already seen you!  You've already done this super early this morning!"  I thought it was really nice of her to recognise and remember me!
Around the three-four mile point on the course, the other runners met up with me on their turn around and I ran with them for a little while before they grew tired of the slow pace and pushed forward.  It was nice to have the run broken up and someone to talk to for a while but I was genuinely happy running alone before the race.
It was easy enough to find Dan and where our stuff was stored upon arriving back to the commentators area.  I quickly nipped through to the loo.  First time I've not had to queue for the loo pre-race!  Then decided against nibbling on my Maxifuel bar before completing two more lengths of the road and back before finally finding my place in the pens at 9:25am ready for the 9:30am gun.
I shall write part 2 – the part with the actual race in in a new post, as this has gotten rather long already! 

  …