So I actually wrote about the build up to the half marathon here, if you haven't already read it.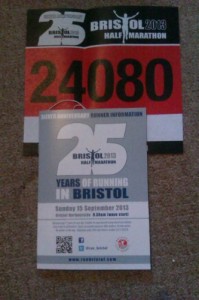 Once we had completed our 90 MINUTE PRE-RACE RUN(!) we used our passes to sneak through from the front into the pens and get lined up ready for the start.  I had a red race number, so should have been starting in wave 2 at 10:00am, but Phoebe had asked me to start at the back of the first wave, heading out at 9:00am so that she could see us altogether at the finish for interviews.  I wished the others good luck and continued towards the back.
With just five minutes to find my place in the pens I did have a little jog alongside the edge in a panic that I would miss my start!  The army guys directing people to pens were doing a great job and I had to flash my pass several times to be allowed through into the pens showing different colours to my race number.  Eventually I found my way to the back of 'Yellow', the last of the pens leaving at the earlier start time.
I was glad of the pass and being able to head to the start later on, only having to wait a few minutes before we started slowly trapsing forward towards the start line.  I moved forward with my arms crossed across my chest, hoping I wouldn't get stopped for the colour of my number!  Once I was over the line things were fine and I started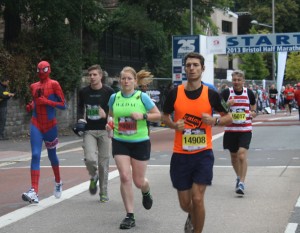 to feel a little more relaxed.  I was at the back with the slower runners of the first wave, minor celebrities (of which I recognised none!) and fancy-dress costumes.  Spiderman and I passed each other several times along the course, and I was also followed by Shrek, Princess Fiona, The Gingerbread Man, Donkey, and Lord Farquaad for a large portion of the race!
The first four miles were on a lovely flat piece of road that headed out of town.  After about two and a half miles I could see the lead runners heading back towards me.  They had actually already completed nearly two miles before I had even crossed the start line, according to Nick, who was commentating on the race!
I like races that start with an out and back section and really enjoy being able to cheer on the lead runners as they pass.  The way the Milton Keynes course had been changed this year meant that I saw the lead runners a few times before the race really got underway there too.
After the lead runners and elites had passed there was a steady stream of the better club runners behind them.  I repeatedly scanned the runners and it took my mind off the fact that I'd already run more than 10 miles that morning!  I saw Neale, one of the Operation Ultra guys, and Anne Marie and Lynda, the Operation Ultra ladies.  I also kept my eyes open for anyone I might recognise through the blog world as I knew several bloggers were racing Bristol at the weekend.
It was rather disheartening being so close to the back of the pack, although I wasn't the only one to sneak through into the wrong pen.  For a while I followed the footsteps of two older gentlemen who had had to rush off after the race so had used bin bags to cover the colour of their numbers up!  Being in the wrong pen is definitely not something I would plan to do again.  Not only is it a horrible situation for you to be in as a runner – right at the back, unable to keep up with those around you, but it is also not fair on everyone behind, weaving to overtake.  Although, as I placed myself at the very back of the wave, this wasn't too much of an issue for this race as runners had spaced out a fair bit by the seven mile marker, where the front of wave two started to catch up.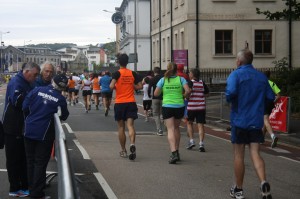 As I was running out towards the turn-around I placed myself close to the central reservation so that I could clearly see the runners heading in the other direction.  It became clear that this was a rookie mistake soon on, a little like placing your tent at the bottom of a hill at Leeds festival!  Runners headed back in the other direction were gobbing across the central reservation and I had to dodge a few snot rockets that had made it over the barrier!
My aim for the race had been roughly 11mm and my first six miles went like this…
Mile 1: 10:45
Mile 2: 10:31
Mile 3: 10:09
Mile 4: 10:59
Mile 5: 10:59
Mile 6: 11:15
And then out of nowhere, I pulled a 9:23mm at Mile 7!  This would be approximately my normal half marathon pace.
I don't know if anyone else noticed it, but I found the mile markers on the course out slightly.  In fact, when I passed the Mile 1 marker, my watch read 1.1miles.  In total, I ended up running 13.75 miles on the course.  Perhaps I just weaved a lot?!
After mile 7 I began to stop and stretch frequently.  Perhaps once each mile?  This obviously added a fair bit to my time and my next few miles went…
Mile 8: 10:43
Mile 9: 12:02
Mile 10: 11:20
I carried a Cherry Lite Lucozade bottle with me on my run as I knew there weren't any planned sports drinks handouts on route.  Only water stations and High5 gels.  By mile 10 though I was sick of the sickly sweet flavour of the Lucozade, chucked my bottle and mugged some poor child for her Jelly Babies instead.  (I MUST remember to pack Jelly Babies at races!)
By this point I had runners all around me again and it was nice not to be so close to the back of the pack anymore.  Two marshals on two seperate occasions came over to check I was OK when I pulled alongside walls to stretch.  The support and marshaling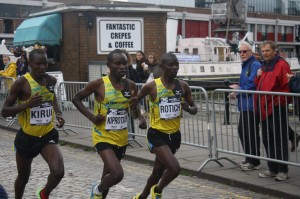 on the course was really superb.
I didn't see Dan until mile 9(ish) where he took a picture of the lead three guys whilst he was waiting for me.
Rotich went on to win in 1:03:56, followed by Kiprotich a second later and then Kirui, less than a second behind him.
Dan had actually said he was going to be just before the 9 mile point, but with the markers being very different to my watch measurements it was closer to 9.6 by my watch when he came into view.  I was happy to see him!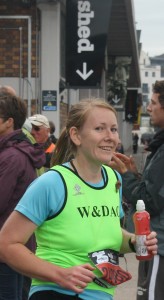 Even if he did take a picture of me with a Shed Head!
My whole right leg was beginning to ache by now and although the stopping to stretch was helping I could really feel it slowing me down further and making each mile more difficult than the last.
Around mile 10 there was such a flurry of activity and support though, there was no chance of stopping or pausing for a longer stretch.  Here, the route did another mini out-and-back and we passed other lines of runners a couple of times, including running around a small grassy square before heading off in a different direction.  Supporters lined the street and the crowd were fantastic – filled with energy.  Just what us runners needed at this point into the race and this definitely helped me to push through the final miles!
My final few miles went as follows…
Mile 11: 12:10
Mile 12: 11:25
Mile 13: 11:31
Nubbin (which was actually 0.75 miles!): 7:42
I actually kicked too early, but it was nice to know that even after running nearly 22 miles that morning I still had enough in me to kick for about 0.6 miles!
In the distance I could hear Nick on the loudspeaker, announcing runners as they came through.  There was a guy on the side of the road saying "Just 200 more metres to go.  Kick now!  Have a strong finish!" So I and all the runners around me did as he said.  At the time I can remember feeling confused, as I knew my watch had only just ticked over to 13miles, and I knew it was out by quite a large amount.  But I kicked anyway.  Most of those around me had fallen back again by the time we reached the finish line, but I finished strong, at an average pace of 10:58 for the distance.  My official time was 2:30:58, which over 13.1miles works out at 11:31mm.  Frustrating, as I know I wasn't that slow because I'd travelled much further than the half marathon distance!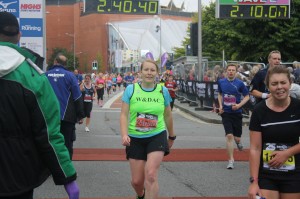 Through the finish line and Dan was there waiting for me.  I knew I needed to keep walking in order for my legs to carry on functioning correctly for the remainder of the week so Dan walked with me through to collect my medal, a foil blanket (I was way too excited about receiving one of these.  I've never had one before!), some crisps and a goodie bag which contained the local paper, a water bottle, some sweets and a really nice flapjack.
By this point it was 12:30 and checkout from the hotel was 1pm so we walked straight through to the hotel to pack up our things and checkout before heading back to grab a word with Nick and Phoebe who were pleased that I had gotten around whilst managing to control the discomfort.  They were then finishing up and heading back to the hotel, so we returned too to find Lynda downing a glass of well-deserved wine in the bar.  She had achieved her second fastest half marathon time, and two of the boys had gotten PBs from the race.  We joined Lynda, but for food only and the real food could not come soon enough!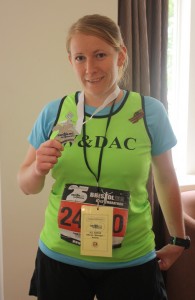 I haven't raced in months and have really missed the atmosphere and excitement that accompany the event on race day.  I can't wait to get back out there and actually race some races!  In three weeks time, all being well I should be at Mablethorpe marathon, although I have not had instructions on how to run it yet.
Training plan for this week as follows…
MON: 30min easy cross train
TUES: 45min recovery run and core work
WED: 60min cross train and core work
THURS: 90min run with last 45mins to include 4x6mins at threshold pace (2min jog recoveries)
FRI: Rest
SAT: 30min recovery run and core workSUN AM: 3hours easy run
SUN PM: 45-60min run with last 30mins at marathon pace
I have just six weeks of training to go now.  The other ladies have just under three!  I can't believe how close we are to the end of this experience…