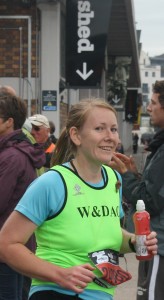 I look super happy in all of my race day pictures from the weekend.  This means that I do have some nice pictures to pull from the event.  However, I have taken this to also mean I wasn't putting in as much effort as I should have done.  I know the aim of the race was to complete it at marathon pace, and on tired legs, after having already run for 90 minutes right before the start but I don't appear 'focused' in any of my race pictures.
From the pictures Dan took, I get the impression that I'm just pottering around the town, and that is not good enough for me!
I started the race with a vague time of 2:15-2:30 in my head, not wanting to push it too much because of my recent injury, and having not run for 3.5-4 hours in a block for a long while, but I think I let myself be a little too dictated by the time in my head and could have pushed myself harder on the day.
The aim was never for a PB, and that was never going to happen (2h 9m is my current PB set last December at Bedford half) but a 2:20 or faster should have been achievable on the day despite the build up to the race being what it was.
From the photos, I feel that my legs have gotten more muscly lately, so all my work at the gym has been paying off!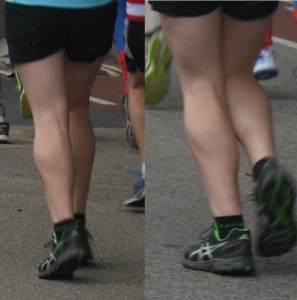 Other than 'muscly legs' though, it is clear that I need to lose some more weight to get to a better 'race weight'.  Despite all of my tough training this year, I am currently at one of my highest weights at the moment.  I weighed a lot less three years ago.
I know weighing less isn't everything, but I feel it will genuinely help to improve my times.  I'm not now about to go and starve myself to drop a lot of weight, but I am going to be a little more conscious about what I'm eating alongside my workouts.
I generally make pretty good choices food-wise, my portion sizes just tend to be too large and we often end up eating dinner at 8:30-9pm, too close to bedtime, but at the earliest we get a chance to sit down and eat after work, running, footy training, etc.
Something else I need to work on is pushing through and pacing myself a little better.  I have had two fantastic races where my pace stayed constant throughout.  My 5k PB race in February, where I achieved a 26m 55s (chart below) and my 10 mile PB race last November, where I came in at 1h 34m.  At both, conditions were perfect, I felt great and my pace never slowed.  But normally, I can feel myself drifting slower and slower towards the end of a race and I end up telling myself 'As long as I just keep moving forwards I'll be OK!'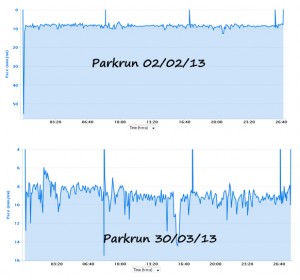 Anyway, I have caught the racing bug again!  I loved the atmosphere and camaraderie between the runners at the weekend.  Everybody was so helpful, friendly and keen to do well and for others to do well.  The support was immense from those cheering on the sidelines and helped remind me just why I love running so much!  I should be racing Mablethorpe marathon on 6th October, and then it will be Dusk 'til Dawn on the 26th.  Expect to see me at several more races in the run up to Christmas.  I've missed racing these past few months!
For more great Bristol race reviews check out the following… Anna | Claire | Em