This week my time has been tight and I've also been fitting in lots of training.
On Thursday I was down to run a 90minute run after work, which included 4x6mins at threshold pace, with 2min recoveries.  And this was one of the best runs I've had in a long while!
After reflecting on my Bristol half race from last weekend I know that I haven't really been pushing myself hard enough just lately, so I set out on Thursday with the intention of really pushing myself for the full 90 minutes.  The 'easy' part of my run was around 10mm, with my threshold reps being closer to 9mm and I felt great at the end!
By the time I got home from work it was already pretty late so I set up dinner ready for when I got back, threw on my running clothes, grabbed my watch and flourescent vest and headed out.  I've managed to break my iPod recently (the backlight doesn't come on which makes it incredibly difficult to see the screen.  It also will not turn off, so I need to charge it before every use.) so I haven't been running with it for a while now.  Instead, I gave all of my attention to pushing myself more on the run and this resulted in a massive smile on my face by the end!
I had picked a hilly route heading out which turned into the local lakes and remained relatively flat to head home again.  It was getting pretty dark by the time I turned to head home and this enabled me to see some local wildlife that felt safer grazing/relaxing in the relative dusk.  I counted three muntjacs who each watched me jog past them, two herons fly overhead and a fox head across my path.  I also saw some big dark shape off up ahead in the distance.  Big black cat?!  Haha!
My Mum once texted to say that my uncle had 'Thought he had seen black panties in the field behind his garden'.  She had actual intended to write 'Thought he had seen the black panther!' North Norfolk has had many sightings of 'the big black cat'.
I've never seen the big cat, but I do frequently see deer whilst out on my runs.  Here's some from a while back…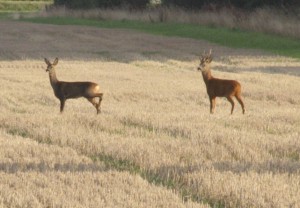 This is what it looked like outside my house at a little after 5am when I got up on Saturday morning for my run.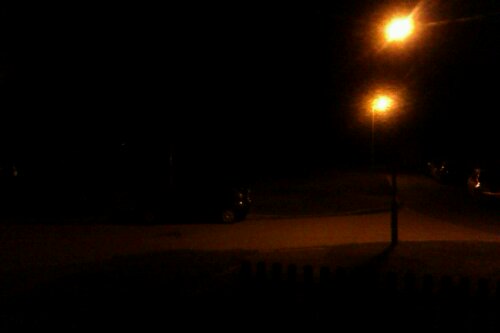 Pitch black, minus the few streetlights that were still on!  I had to run pretty early on Saturday morning, as I was due to fit in a 30min easy run before heading back to Norfolk to pick Mum up so that she could come with me to have my measurements taken for my wedding dress.  Afterwards, I was heading out to Norwich with three of my four bridesmaids and another friend for a film and pizza and wasn't sure what time I would be back.  Where my parents live would be completely pitch black by early evening as they are too far in the sticks for streetlights.  My headtorch for the ultra hasn't arrived yet so I thought it best to get my run in nice and early instead!
All this night running is helping to prepare for my night ultra.  Six weeks away!