On Saturday morning, after an easy 30 minute run in the dark I headed back to Norfolk.  I was booked in for my first lot of measurements to be taken for my wedding dress and to pay the deposit and for the dress to be officially ordered!
Nadine's Bridal Boutique in Dereham have been absolutely fantastic in helping me choose my dress.  They were the perfect mix of letting me decide what I was after and helping me to choose what suited my shape.  Incredibly professional but very down to earth at the same time.  I'm very glad that they were recommended to my Mum.
Whilst taking my measurements I discovered that for my wedding dress I was a size 14 for my boobs, a size 16 for my hips and a size 18 for my waist?! I've never been a size 18 before and always felt that I had an hourglass figure, not one that gave me a pot-belly effect!  The dress I tried on in the store was a 14 and fitted me well though, so that is what we went ahead and ordered despite what the tape measure said!  I am usually a size 12, although own a few 10s and also a few 14s.  Clothes sizes vary so much from shop to shop.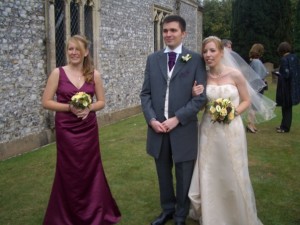 I had a bad experience in 2009 when out trying on bridesmaid dresses for my best friend Hollie's wedding.  One of the shops we went into only seemed to stock size 8 or smaller dresses.  When I was handed a dress to try on and didn't get changed immediately the woman asked 'What IS the problem?' in a sharp tone.  When I explained to her that no part of me would fit into a size eight, I wouldn't even be able to get my leg into the thing she replied 'Well don't worry, the wedding isn't until October, you've got months to lose all of your excess fat before the wedding!'  We left the shop and I did not enjoy the hunting down of the perfect bridesmaid dress as much as I should have and vowed not to put my bridesmaids through the same situation!

Dan and I both loved the Two Birds bridesmaid dresses, (although not the cost of them!) so are having similar ones made for my four bridesmaids.  I love that the dresses can be wrapped in one of fifteen different ways.  Each one of my bridemaids is a completely different shape and height, so they will be able to wrap their dresses to suit them for the day.
After ordering my wedding dress with my Mum I drove up to Norwich to meet with three of my four bridesmaids and a friend to see About Time.  LOVE this film.  A great British comedy feel-good film just as Richard Curtis always seems to dream up!  Although I liked Love Actually, I felt there was too much going on at times.  About Time had the balance just right, and I came out of the cinema wishing that it rains and that there are gail force winds for my wedding and that I could live as happily as the couple in the film appeared to.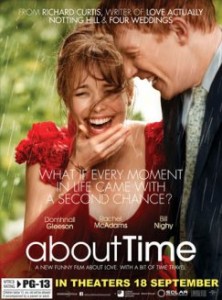 Oh, I also cried a lot.  I cry at many films, but even friends that never cry choked up a little towards the end of the film.
We then made our own pizzas…
Made silly faces…
And tried to train Amanda's new Golden Retriever puppy Barley Bell to 'roll-over'.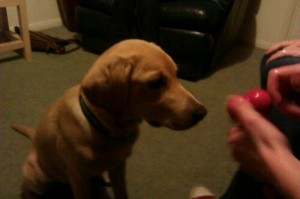 (He didn't get it!)  But all in all, a nice day of playing catch-up with my friends.