On Sunday as I was back visiting my parents I decided to run the four miles to my old primary school and head around the old cross-country course that we used to have to run each year from the age of nine.  The course used to head out from the school, along a footpath, past some farms, through a few fields and back to the school again along a footpath that ran alongside one edge of the school field. The younger children were allowed out to cheer us on along this fence. I used to hate it at the time. I loved sport – I was on the hockey team when I first began at the school, and quickly became one of the 'netball girls'. However, running was not my thing! I was always puffing and panting at the back with the back marker teacher and two other girls!
There is some beautiful scenery along the route which I never appreciated at the time and I wish I could go back and tell my nine-year-old self how fun running could actually be!
I managed to test out a Maxifuel Summerberries gel on route at about 7 miles into the three hour run and surprised myself at how much I liked it.  I don't usually like anything too sweet whilst I'm running.  I struggle to crave foods at all normally, but definitely nothing sweet, although this gel went down quite easily.
Mum then filled me up with a Sunday dinner when I got back – roast chicken, followed by a pear tart and cream.  Preparing myself for the hour run I had to complete that evening when I returned home!
When I returned home I discovered that Dan had hurt his leg whilst playing football for his team earlier in the day and had struggled to do anything much other than lie on the couch since! I checked on him quickly before heading out with my friend Jenny to run for an hour with the last 30mins at marathon pace.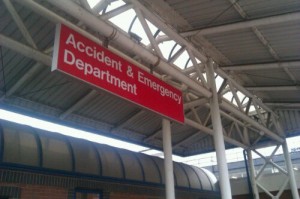 Dan was still in a lot of pain the following morning and hadn't slept much through the night so we booked him in at the doctor's for 9am and they sent us through to A&E with a suspected fracture.
He was assessed pretty quickly, sent through to X-ray and then we had a long wait whilst we were waiting for his x-rays to be looked over. We had probably been out of the house for nearly four hours by the time the nurse called him into the room to inform him what had happened. I was then waiting for nearly a further half an hour whilst he had a temporary cast placed on his lower leg.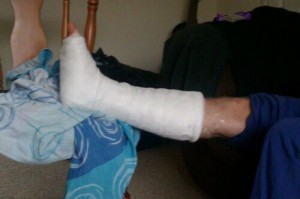 He was wearing a pair of expensive jeans that his Mum had bought for his birthday at the end of August and the nurse had said that the cast would not be able to fit underneath the jeans as they were too close to the skin.  For a moment Dan had a panic that they would end up having to cut through his jeans, but luckily a nurse managed to find a spare set of nurse scrubs for him to model instead so he quickly changed into those!
Dan had broken a bone near his ankle resulting in the nurse having to restrict movement in the leg to allow it time to heal.  Next Monday we have to head back to the fracture clinic in order that they can take the temporary cast off and replace it with a more permanent one.  We should know more then, but it looks as though Dan will be off work for several weeks, as he cannot drive and needs to keep his foot elevated.
We headed down the slope by our house into town (about a 5min walk) for lunch yesterday so that Dan could practice using his crutches.  He could get about 15-16 'hops' along before he had to take a breather and the sweat was literally pouring off him by the time we arrived for lunch!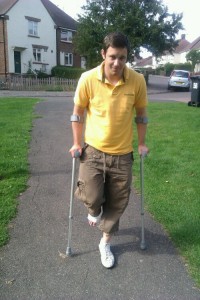 He's already bored at home.  Luckily, working in ICT he can complete most of his work from home, but it's still going to be a very long few months!