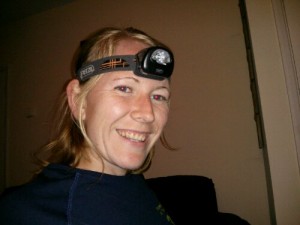 Yesterday after work I headed out for a run for the first time with a headtorch.
Lots of people at my running club tend to wear them during the Winter months.  I did have a cheap one which I used to wear to collect the wood in from the top of the garden last Winter, but that annoyed me by bouncing around all over the place just while I was walking up the garden so knew it would have been impossible to run in.
I'm the sort of person that likes to hear reviews of a product before I purchase one, so I did a shout out on Twitter and Facebook running groups to see what people thought were best.  Colin, one of the ultrarunners from my club offered to lend me his Petzl TIKKA XP headtorch over the next few weeks and then for the race itself if I get on with it.
I picked the torch up from Colin on Tuesday and with a gym session scheduled for Wednesday night yesterday was the first chance I got to test it.  The plan said 90 minute run with 3x10mins at threshold pace (2min recoveries inbetween).  I didn't get back from work until after 6pm and it was 6:40pm by the time I got changed, grabbed a drink and was out the door.
I was pretty tired from a busy couple of days at work (Wednesday we had a 'Meet the Parents' evening at work, which I followed by an hour at the gym, meaning it was 10:30pm by the time I got home from work) So on Thursday evening I really had to gear myself up to run, despite these longer, mid-week runs with threshold sessions recently becoming my favourites.
By the time I got out there though I was glad I did and quickly got into a good rythym, averaging slightly over 10mm easily.  I was having one of those days where I felt like I could run forever last night.  I think mainly because I was tired but it felt like I was wearing goggles for the entire run!  The headtorch was extremely comfy and stayed in place throughout the run, although I was still aware it was on my head.  The light was very bright and it had a goggle-shaped cut-off towards the bottom of my vision where it was just darkness below the light, and I was really surprised twice when two flies flew straight into my eye, as I expected them to hit the imaginary goggles!
I could also change the angle of the light on the ground and alter the bean for a wider view, as well as changing to a red-light on the torch.
I had loads to think about on my run and let my legs just get to work, not really thinking about them moving which seemed to work!  The threshold part was meant to be run on a 'hilly' route, so I selected a different way back and made the legs work hard to get home again!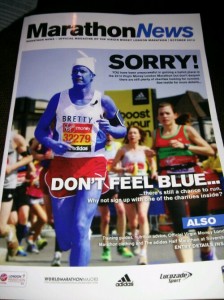 When I had arrived home, my London Marathon rejection magazine was waiting for me on my doorstep, same as last year.  And, I imagine, the same as in thousands of other households across the country!
Are you running London marathon next year?
If not, do you have another one lined up?I think I shall be Milton Keynes bound for the third year running.  Year one was torrential, year two was boiling, third time lucky?…!  (Crossing my fingers!)