…but this weekend I managed to get out for a run from Northampton to Wellingborough, along the river edge.  It was a beautiful day – really sunny, but not too hot.  The run ended up being approximately 15 miles, (a little over what I should have run for the day – oops!) but it was great to run with others properly again.  I had just started getting into a routine of running a trail run every other week with runners from club before winning a place on Operation Ultra.  Several of the runners that take part in the trail runs are in the group above me at running club, so it ensures I continue to work hard at my running to keep up with the group (I'm always at the back, but it doesn't seem to matter on the trail runs).
Running with others is what I have missed most whilst I've been training for the ultra.  Lots of my training runs have been quite specific and so I haven't been able to fit them in with other runners unfortunately.
I did get to run with the other Operation Ultra crew before the Bristol half marathon the other week though, and we had a great pre-race photo taken, which I've just gotten my hands on!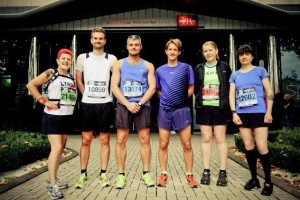 Shame the photo of us in this month's Women's Running mag wasn't quite so flattering!  I feel it should have gone with an explanation!  Rather than give you an explanation though, who can come up with the best caption?!