Yesterday I cheated on my running club…with the school running club!
My school, which has 80 students aged 3-17 has a running club I was glad to hear, and a popular one at that, with almost half of the school getting involved in it's weekly sessions!
I was a little late out at lunchtime as I got caught up with a tech issue on my way out the door but still arrived with 15 minutes left of running time.
I joined the English and P.E. teacher for laps of the field (not the school field – they don't have one the school is so small!  But the local footy field next to the school.)  Other students were out running laps also, some wearing headphones, and others chatting to the person next to them.  All were very enthusiastic about how many laps they could complete and happy to be out running which was great!
Another teacher was in the hall with all students under the age of eleven, so there are four teachers interested in running – excellent news!
It was rather drizzly outside at lunch and at 1:45 we called all students back in ready to get changed for afternoon lessons again.  A year 9 and year 11 stayed talking to me and the other teachers for a little while and asked how far it was around the field.  My watch had found satellites by this point so I offered to take a quick sprint around the field to work out the distance for training.  (All students at the school are taking part in a sponsored run during the last week before half term to see how far they can get within a certain time at our local park.)
Whilst I was running round, the English teacher must have told the boys that I had an upcoming 50 miler, and I gained a bit of street cred for planning to attempt this.  They wanted to ask me loads of questions on the way back inside – some of them a little hard to answer, such as 'What's your average finishing position?!' but also questions I could talk about, such as 'How many miles do you run each week?'
The field ended up being 0.4 miles round, nice and achieveable for someone starting out in running, but still large enough not to be running round and round and bumping into people all the time.  I ran 3 laps yesterday, from talking to others it seemed that most students ran 3+ laps before heading inside again.
I'm looking forward to getting more involved in the running club and I'm glad it's already gotten such a good turn-out.
Did your school have a running club?  Were you part of it when you were at school?
I hated running when I was at school.  Over any sort of distance anyway.  My love was team sports and I was on both the netball and hockey teams at school.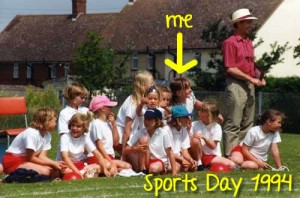 On Sports Day we always had four events – Egg & Spoon (I used to come 1st every year), Beanbag pick-up (I used to come second), Sack race (third) and running (fourth).  There were only four girls in my year!