What can I say?  The weather is just never on my side!!!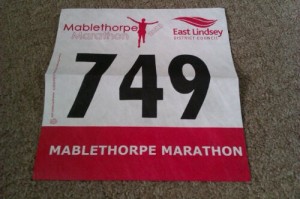 It was another super hot day yesterday for marathon number three.  My watch recorded the maximum temperature as just over 24 degrees and my legs are now a lovely tanned colour!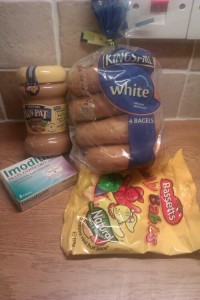 On Saturday night I headed to the shop to pick up this little lot whilst still in my running clothes after a 20 minute slow run.  Like it wasn't already clear that I was a runner from what was in my basket!
I woke up nice and early at 5:20am on Sunday morning to dress and finish packing before Kev rang to announce 'My chariot awaited'! and that he was outside.  Kev was running the marathon too, and was also offering a lift to two other runners from our club who were running the half marathon.  A further two runners from our club were meeting us up there and running the half marathon as well.  (One came 9th!)
The early start had us all yawning on the drive down, and it ended up being quite a drive, lasting about two and a half hours in total.  We got there in plenty of time though and before the port-a-loos got too bad!
I made my way towards the back of the pack ready for the gun, which I never even heard.  There were a lot more runners than I thought there would be and for the first 10k there were definitely several other runners in sight.  I found the first 10k quite easy, and looking back on my watch I was consistant with my pace, which in turn would have gotten me round in the 4h 45m I was aiming for at MK marathon earlier in the year.  I had decided early on to run on feel, not by my watch and used how I felt, along with comments from other runners about their pace during the race to judge how to run.  My first few miles went:
Mile 1: 10:10
Mile 2: 10:31
Mile 3: 10:35
Mile 4: 10:37
Mile 5: 10:33
Mile 6: 10:37
I hadn't wanted to walk at all during the marathon, but at mile 7, I couldn't rip the top off of my gel so ended up walking a little way whilst I took it off with my teeth.  Rookie mistake, stopping to walk during a marathon.  Your mind then tries to tell you that a little walking is OK, when in actual fact, that hadn't been part of the game plan!  At this point, an older gentleman ran past, declaring that there were only 6.1 miles to go.  I quietly corrected him in my head that I actually still had 19.2 miles left!  Another mistake!  Running is all about the mind games…
By mile 8 I could feel that I was overheating.  There were lots of water stations on the route – eleven in total.  When I read this in the course booklet, combined with knowing the weather was going to be pretty hot, I knew yesterday wasn't the day for bringing my water backpack out for another trial and that my back would appreciate not having to hold the extra weight – it would get sweaty enough!
The stations were spaced close enough together that I could take sips over the course of just over a mile from the bottle and then dump the remainder over my head when the next water station came into sight.  This kept me a little cooler in the heat, as there was very little cover on the course.
By mile 9 I was feeling pretty bad and my right hip/glute had begun to ache.  There was no way I was letting it stop me from completing the course but every so often it seemed to swing out away from my body, all of it's own accord.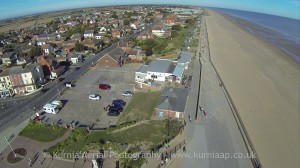 The last two miles of the half/marathon (it's a two lap marathon course) are run along the promenade of the beach itself.  Although this was fantastic for support on such a lovely day, there was absolutely no cover from the sun here at all and I could feel the sweat pouring off me.  After running down the bank at the other end of the promenade it wasn't very far until we were back at base again.  When we ran past the start point to drop off all half marathoners the only thing stopping me from turning in and finishing with them were the loud shouts from the four half marathoners from my club cheering me past.  All of them finished under 2 hours, with the first home in 1h 24m 24s.  Super speedy!
Mile 7: 11:19
Mile 8: 11:11
Mile 9: 11:02
Mile 10: 11:35
Mile 11: 11:19
Mile 12: 12:17
Mile 13: 11:56

I checked my watch briefly at this point.  I knew it wasn't going well.  I had taken several walk breaks by now and was rather disappointed with myself.  My watch said that if I could run similar during the second half, I would still be in with a chance of a PB though and this spurred me on a little.
By now, there were no other runners around and I didn't see any for at least a mile.  Mile 14 was a little odd as we ran off the main road along a short road, round some cones and back again.  I'm sure there must have been another way of making the extra up on the course!
Mile 15 and still no one in sight.  The sun was at it's hottest now and I was feeling so annoyed at myself for not trying hard enough.  Every so often I would pick at a jelly baby from my belt and I never felt like I was out of energy at least.  Well, this was the first race in a long while where I've not wanted to mug a small child for their jelly babies mid-race!
Mile 14: 12:25
Mile 15: 11:34
Mile 16: 12:14
Mile 17: 12:17
Mile 18: 12:39

I got to mile 18 and I rang Dan.  I was feeling so low, knowing that I wasn't going to achieve anything other than a finish, and at a race I was unhappy with myself for.  He really picked me back up, and the speed walk for half a mile I completed whilst I was on the phone to him definitely helped me focus on the rest of the race.  Nobody else overtook me the rest of the race and I gradually picked off runners one by one (I'm guessing more than 10 in total) towards the finish as I operated a strict run-walk strategy.  I would run up to a marker ahead, and allow myself 25 steps in walk before running to the next marker.  It wasn't quick, and it wasn't very stylish with my right leg now swinging much more but with every step I was moving closer to the finish at least.
Mile 19: 14:06
Mile 20: 11:59
Mile 21: 12:06
Mile 22: 11:55
Mile 23: 12:33
Mile 24: 13:34
Mile 25: 12:45
Mile 26: 12:15
Nubbin (0.46miles) : 11:27 pace
Kev had expected me in at around 4:45, although knew the weather was not ideal conditions for me.  Some people apparently run well in the heat.  I'd like to know how they do this!  When the clock at the finish turned to 4:46 he realised I wasn't going to hit his goal for me and he moved round to the end of the promenade so that he could see me coming and cheer me in.  I could hear someone calling my name in the distance, but really couldn't make him out until I got closer.  The large quantities of water I had repeatedly poured over my head and mixed with the sweat and run into my eyes, making it hard for me to see through my contacts.  He met me on the corner and gave me a pep talk for the finish.  He could see how disappointed I was with myself and tried hard to get me to pick up for the end.  The other two ladies he gave a lift to were right behind him and the three of them ran me through to the finish where I grabbed my medal and t-shirt before laying on the floor for a much-needed stretch.
I was rather unhappy with myself, but at the same time so proud that I managed to pull myself back from a downward spiral in the middle of the race.  I finished a few minutes slower than my original PB from my first marathon last year.  Official finish time of 5h 11m 15s.  It could have been much worse.  And I need to remember that I missed three weeks of proper training, with my right side still giving me grief.
Kev has promised to get me round in a time I am happy with at the Northampton Marathon Running Festival marathon on 20th April next year.  I've promised to do him proud.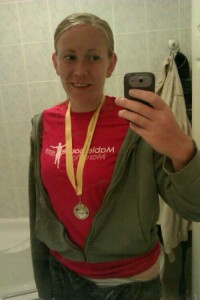 You can see from the colour of my face in this photo how hot the day was.  I'm looking rather tanned (burnt)!  This is the first race all year though where my legs have come out the other side looking tanned rather than burnt.  Bonus!  Just in time for the winter when my legs are normally pasty white!  😛
After changing into our race 'uniform' t-shirts we headed to a cafe in the town where I managed to force down most of a gammon steak with egg, potatoes and peas before we headed home.
More mind games to be practiced before the next marathon I think!