For several weeks now people have been asking about my racing plans post-ultra.  As my ultra isn't until the end of October, I have left the remainder of this year fairly open, only booking the St. Neot's Half Marathon in November, although I would also like to run Bedford half in December if my legs aren't demanding a break by then!
A friend from club messaged me with details of the Conti Lightning Run on Thursday though, tempted to enter herself.  When I spoke to her at club that night, she had entered with the early bird entry.
Yesterday when entries went live for the public I also filled out my details for a place…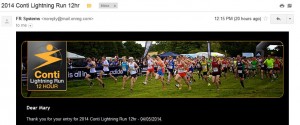 I have a solo place for the event!  The Conti Run is a 12 hour event, where each solo runner, or team runs laps around a 10k loop.  As a solo runner I won't be tagging anyone as I cross the line, but rather continuing to run laps for 12 hours!  I'm the third club member to sign up, with two others also talking about entering.
It's held on the 4th May – the day before Milton Keynes marathon, on the Bank Holiday weekend.  So this does unfortunately mean I won't have a chance to see if it would have been 'third time lucky' at Milton Keynes, but I will be heading that way to support our club on the way home from my race.
This is the only race I have entered so far for next year, although I would like to have another shot at marathon distance (Kev is talking about getting me round at Northampton marathon in April), and also complete Shires & Spires 35m and have a go at the Grim Reaper 40m in August…which is just a week before my wedding…if Dan allows…!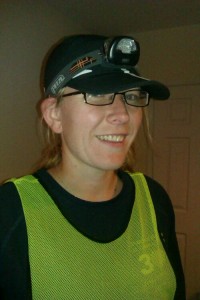 Back to the running…!  Last night I headed out in the pouring rain all geared up.  I've been trying to wear my contact lenses less as during the week I often wear them for 15+ hours a day which is bad for my eyes.  As it was pouring down last night I left my glasses on, under my cap, with a headtorch on top!  Geared up for the weather, and a great run!  90mins including 3x 10mins at threshold pace with 3min recoveries inbetween.  Not many of my beloved threshold runs left now before the big day!
To keep you entertained…
Ultraboy and Sarah answered the questions I set last week.  Go ahead and read their hilarious answers…!