For Christmas last year my brother, Mark bought Dan and I the first Season of Dexter.  Buying the first season of a series each Christmas for us has become a bit of a tradition.  It all started with How I Met Your Mother and then along came Supernatural and Dexter.
Dan and I like our box sets.  In the past becoming addicted to Glee, Heroes, Flash Forward, Homeland…
Dexter is firm favourite at the moment though, and we have just finished Season four.  What an ending! Seasons five and six are on rush order from Amazon to continue our Dexter-fest!
Dexter fact: Jennifer Carpenter (Deb, from Dexter) is a runner too and ran the New York marathon in 3h34m!
I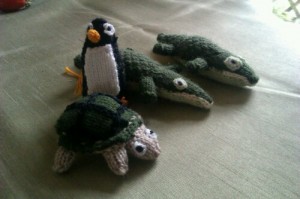 'm someone that can never seem to do just one thing at a time though and have been knitting away at these little creatures over the past few weeks of Dexter-watching to create a Noah's Ark for Dan's nieces and nephew.  His sister has an eighteen-month old, Jenson and is expecting again; a girl this time, due at the start of November.  Her partner already has a five year old, Evie and I wanted to make the three of them something for Christmas from Dan and I.  I taught myself to knit when Jenson was due and sent over a bundle of toys for his birth.  Dan wanted to join in the fun though, so when I found the Noah's Knits book at my local craft store he offered to build a mini-ark out of wood for the animals to reside in ready to be given to the kids at Christmas.  I'm having lots of fun making them, although I keep flitting from one animal to another.  So far I have completed two crocodiles, a penguin and a tortoise.  But, unpictured I also have an elephant missing one leg, a goat without a face, a headless tortoise, two lions and a zebra yet to be put together!
To see all of the animals as they will eventually be, take a look at this fantastic Noah's Knits video!  Love this, whoever put it together.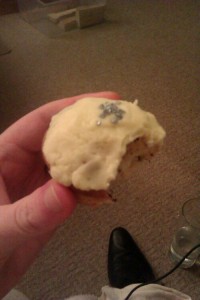 I made a batch of chocolate chip buns, with white chocolate icing and silver sprinkles yesterday as a 'taste test' for the weekend.
This coming weekend I am holding a cake stall in Holt (North Norfolk) town centre to raise money for MacMillan Cancer Care.  If you are in the area, please pop by and say 'Hi!'
I sent an Event invite out to everyone I knew on Facebook last weekend to ask for cake donations and invite them to buy cakes on the day and have been overwhelmed with the help people have offered since!  I had messages from people I haven't seen since University and several people I run with have offered to bake for me on Friday for me to collect and take back to Norfolk when I head that way.  Friends from Norfolk have offered to help set up and man the stall and I genuinely felt so touched by how much people cared to fit my cake sale into their busy lives.