So it's been a week since I posted last…a lot can happen in a week!
It was an incredibly busy week, leaving me without a chance to get on the computer and blog any details.
I've mentioned before but although I'm only working part-time (three days a week) at present I am probably still working a 45 hour week, just that those hours are spread entirely over my three working days!  Wednesday-Friday have become mad rushes to school, non-stop teaching, followed by planning and marking long into the night.  As Dan has been off work with the broken bone in his leg it has meant that each Monday I have either been taking him into hospital for an appointment, or into Cambridge so that he can have meetings with work.  This week though, he has finally been given the all-clear to drive again.  His big cast is off, and he is no longer on crutches, but his leg is still incredibly swollen and he quickly becomes in pain after too much walking/standing around.
On Saturday I had planned a cake stall in Holt town centre in order to raise funds for MacMillan Cancer Care.  The stall had been planned for about six weeks, but three weeks ago the Headmaster at our school decided to hold an open day for potential new students, with it compulsory for all current students and teachers to attend.  It would be lessons as normal.  With extenuating circumstances I was granted leave for the day, but in return I stayed late on Friday evening to help clean and tidy the school ready for the following day.  Hoovering, dusting, cleaning windows, etc…  By the time I got home it was 6:30pm, and I quickly wolfed down the pizza Dan had organised, packed, loaded up the car and we were off to Norfolk to get ready for the stall!
After a brief stop in Hampton to pick up some baking goodies we continued on to Mum's, arriving at about 9:30pm, where I set up in the kitchen for an evening of baking, making 50 cupcakes ready for the next day.
Neighbours had already brought round several cakes, which were filling the kitchen table.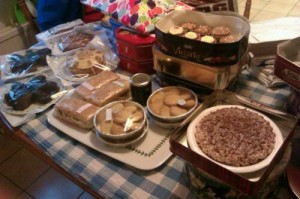 It wasn't until 12:30 when I finally had all cupcakes out of the oven and iced and the washing up complete finally toddling off to bed, only to be woken at 2:30am, by my brother taking his turn in the kitchen and being rather noisy about making his chocolate crispie cakes!
Up by 6am, a quick shower and loading up the car.  My friend, Zoë arrived to give us a hand, so I headed up in her car, my Dad drove his truck, to take the table up in, and Mum brought Dan.  Mum had been rushing around all morning and as she went to get into the car, her hands flew to her head, and she exclaimed "My hair!" and ran back inside to collect it, as she had come out without her wig.  When we arrived in town, I headed over to help her unload her car and I noticed she still wasn't wearing her hair so asked her about it.  Her response was "Well, I was going to wear my hair, but then I thought it would be a good advert!"
It took a lot longer to decorate the stall than I initially thought, and we covered the borrowed table with bin liners, before adding a real table cloth and then the MacMillan one over the top, as there were rumours that we were going to get heavy rain later in the morning.  The pack I got through the post from MacMillan was fantastic, and contained balloons, a table cloth, stickers for customers, a moneybox, cake labels and loads more.  A massive help for setting up the stall!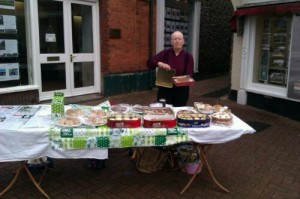 We had been donated so many cakes and buns that we ended up having loads of tins left under the table to 'top up' the tins on top of the table as we made sales!
I also laminated some of the articles that had been in the magazine about me, alongside details of the Dusk 'til Dawn ultra and placed those on one end of the table.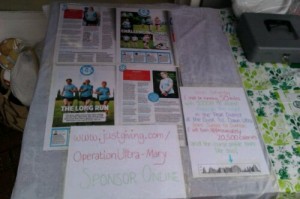 We were relatively lucky with the weather in the beginning, and we had probably sold almost half our stock in the first hour and a half whilst the weather was still nice.  We seemed to have a constant stream of people visiting the stall, and yet more friends and family brought along cakes for us to put out.
And then, it tipped it down…
Luckily, we had prepared for this and had covered everything in clingfilm, and had brought along large umbrellas to cover the stall with!  We were still rather chipper, as the stall had done well, and I was making up games for us to play when the stall went quiet.
The lady in the estate agents next to the stall rushed out after the initial downpour and offered to let us move our stall to underneath their canopy, which I quickly pulled out.
With a quick bit of manouvering we managed to lift and shimmy the stall across, although there wasn't much left to sell by this point!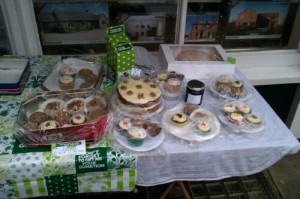 When we moved the stall we decided to set ourselves another 40 minutes to sell (taking us to about 12:30pm-ish) before calling it a day.  By that time, we were left with just one cake and seven cupcakes, so didn't do too badly at all!
My Uncle runs the local paper, The Holt Chronicle, and had placed an advert for the stall in the paper for me the week before.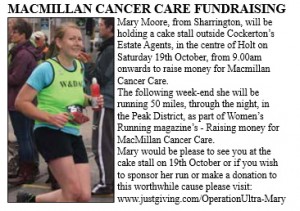 This meant that several people that visited the stall already knew about the ultra I shall be running and asked me questions about it.  One guy visited who had just completed his first ultra – a 69mile ultra in North Norfolk.  He advised me to book in for a massage for the day afterwards now!
One woman who didn't even buy any cakes from the stall told me that she wanted to sponsor me for my run and pulled out her purse from her bag.  I watched her pull a twenty, another twenty, a ten…  I assumed she was looking for a £5 note, but she pressed all three notes into my hand.  £50.  I told her I couldn't take all that, but she insisted.
I was so touched at everybody for giving up their time, baking cakes, visiting the stall, spreading the word, wishing my Mum well, and me a good luck for my race.  In total we raised £235…with more still coming in, and not counting those people that sponsored me online.  Much better than I could have hoped for! And once again, evidence that cakes are good!