This week I have had two people tell me that my marathon time isn't very good.  To my knowledge, neither of them could do any better – not actively runners themselves, but it still stung.  I have put in hours and hours week after week to train for the three marathons I have run and even if I myself am not 100% happy with my times and know that I could do better, they are my marathon times, no-one elses.  It's up to me to say if they are rubbish or not.  I shouldn't feel embarrassed for sharing my times, but instead be proud that I have completed three marathons.  How many people have completed three marathons in their lifetime?  I heard somewhere that about 1% of the British population have completed a marathon but I don't know how accurate that is.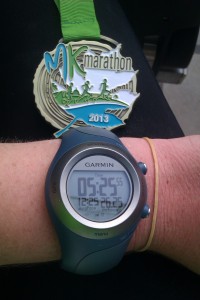 The first person to comment on my time was someone I work with.  I had taken the copies of Women's Running magazine I was in to school last week so that I could get them copied ready to display on my cake stall at the weekend.  I showed her one of the copies and she skim-read the fact file about me at the top which announced my maraathon PB was 5h 6m.  Her response was "Well it makes me feel better about myself that even though you run a lot you're still a really slow runner like me."
The second person was whilst we were out at a Harvest Festival at the weekend with my family.  The gentleman sat next to Dan started quizzing him on my race times, trying to work out how long it would take me to run the 50 miles this coming weekend.  Dan stuck up for me, saying that I hadn't had much luck with marathon races – the first one having had the course extended, running through puddles halfway up to my knees and horrific wind and rain, and the following two races in awful heat.  The gentleman insisted he know my PB time, and when I eventually told him 5h 6m he said "You're right, that's not very good." in a very matter-of-fact way.
I don't need pressure from other people, or negative comments from others – I give myself enough of those as it is!
I am an incredibly competitive person – not necessarily against other people, but definitely so with myself.  Each time I run I want to beat what I have already achieved and wind up disappointed if I do not do so.  I put an enormous amount of pressure on myself to do well.  Not just with running, but with everything that I do and it often leaves me feeling exhausted, frustrated and without enough time to do things that I really should be doing.
This year, I have been out on a lot of runs with Kev.  I really admire Kev's way of running.  He just enjoys it.  He puts no pressure on himself with regards to times or anything like that.  If a cut-off time for a race is 7 hours, he will aim for 6 hours, 59 minutes and 59 seconds and be happy with anything quicker than that.  He runs with Group four – my group at club, although has a Sub 4 marathon time and would be capable of running much faster with some work.  But that's not running to him.  He runs because he enjoys it, and he loves to show others how to enjoy it too.  He frequently offers to pace people, even those much, much slower than him as he likes to see people achieve their goals.  This is where I want to be.  Not worrying about getting a PB, not constantly working out my splits from my Garmin, not too embarrassed to share my race times with others.  I run because I enjoy it.  Race times shouldn't matter.
Cross-country season is coming up with the first race for our club this weekend.  I obviously won't be able to make the first race, as I will be in the Peak District somewhere, hopefully asleep following my 50 mile ultra the night before!  But I intend on making the rest of the season.  Cross-country is not timed.  Instead, runners receive a 'place' for the order they come across the finish line in.  The pressure of time is not there, instead, many fun elements such as ditch jumping and muddy fields are.  Time to put some fun back into my running!
How do you cope with negative comments about your running?