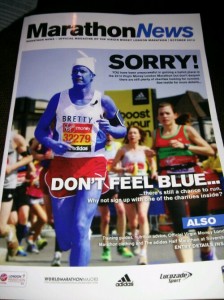 Several weeks ago, this magazine fell through my letterbox.  Once again, I hadn't won a ballot place for the Virgin London Marathon.  I hadn't expected to, with the thousands and thousands of people that apply every year.
Last night was the club draw for VLM.  Each affiliated club gets a certain number of places for the marathon, dependent on how many members they have.  Our club has over 300 members, so this year we were granted four places for club runners.
To be in with a chance at the draw, you had to have been a member since at least April 2012 and to hand in your rejection letter for the magazine.  That gave you one ticket for the pot.  You gained another ticket by marshaling at a club race.  I had marshaled at the 5 mile race held earlier in the Summer.  A third ticket was available to those that had run some of the League series over the Summer for the club.  I had run most of the League races the year before, but this year as I was training for Operation Ultra I hadn't run any, so just two tickets in the pot for me.
Over the weekend a list of entries for the club ballot were announced online.  There were only 60 in total, of which I had two.  I desperately tried to work out the odds.  What are the odds of getting a place if you have two entries in sixty and four names are to be drawn out of the pot, with several of them as duplicates which then would not count if drawn out?  In the end I gave up trying to work it out and settled on knowing that my chances were much better than I thought they were going to be.
I headed down to the club house for the start of club, as even though I wasn't running, had to pick up a handheld Garmin that Kev was lending me and wanted to stick around for the draw.  I am one of two of the website team for the club website and had promised to post up who had won a place for those that couldn't make the draw.
The first name was called out, second, third, and then the final name to appear was mine!  There is also a reserve runner chosen in case of injury before the day, but I was in a daze by then.  Not sure it's really sunk in yet!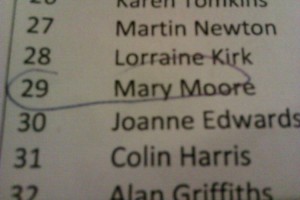 That 'circle' around my name means that I have a place in London next year!
It appears that next year will be one of the biggest years at London for our club, with four club places, several winners of the actual ballot and a large number of Good For Age entries.  I'm looking forward to experiencing what everyone else has raved about and am already looking forward to the day!