On Sunday lunchtime, on the way back from my parents in Norfolk, Dan and I had booked in a tasting session with Anglia Catering, the caterers that will be feeding all of our guests on our wedding day next year!
We weren't really sure what to expect, as none of our friends had had tasting sessions before their wedding days in the past.
At 2pm, we knocked on the door of a small house and were greeted by Lindsay, the owner of the company.  He welcomed us into his home and ushered us through to the dining room, where he served us our starter dishes.
For our wedding catering, as Dan and I each have such different tastes, we have decided to have a 'Dan option' for each course, and a 'Mary option' and allow guests to choose which they would prefer.  (Clearly my options are much better, and more will choose my meal choices!)
For starters, Dan had chosen the Mixed meat d'ouvres and I had chosen the Tomato and mozzarella salad.  Anyone who knows me knows that this is a dish that I HAVE to order whenever it is on the menu, especially when it comes with pesto, like this one did.
The starters were already served on the table for us when we arrived, and I didn't want to whip out my phone and take a sneaky shot, but I am absolutely gutted that I didn't photograph the beauty on our plates!
We each had a plate of the meat d'ouvres, which had four different types of meat, delicately cut, along with salad leaves and chopped tomato, olives and gherkins.  (I LOVE GHERKINS!)  In the centre of the table was a plate of my tomato and mozzarella salad, dripping in pesto and also containing mixed olives and gherkins.  (Seriously, I will be waltzing around the hall on my wedding day picking unwanted gherkins from guest's plates!)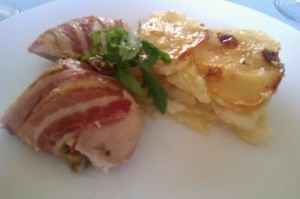 Next up was the mains.  I was a little disappointed that I didn't get a chance to try the Mushroom and pepper risotto I had chosen but I think Lindsay was under the impression that that was just our 'veggie option' for those that weren't meat eaters.
Dan had chosen Stuffed breast of chicken wrapped in bacon, so out came hot plates containing this, along with dauphinoise potatoes, which were lovely and creamy.  The breast of chicken was stuffed and I have honestly never tasted chicken cooked so perfectly.  I'm not a massive meat fan and never really 'enjoy' the taste of meat, but this was good.  Very, very good!
Alongside the main courses, either Dan's dish or my dish both come with the dauphinoise potatoes as well as Garden peas and carrots and Braised red cabbage.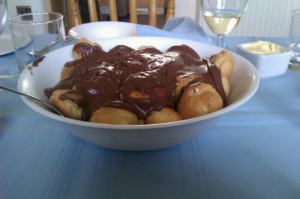 A quick breather before it was time for dessert!
As there were just the four of us sampling the menu (Dan, Me, Lindsay and his partner) Lindsay put together one large portion of Profiteroles with chocolate sauce (Dan's choice) in the centre of the table.  The balls were filled to bursting with cream inside and the chocolate sauce was made from scratch – lovely and milky.  Very filling.  I only took two balls, although the portion size would have been three, and Dan managed to wolf down five!
My choice for the wedding day was the Pavlova with seasonal fruits.  I looked longingly at the sample that was made up for us, but didn't dip my spoon in.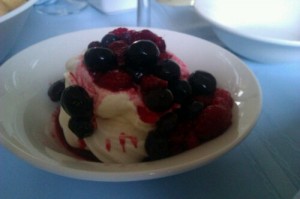 The pictures from my phone sneakily taken whilst plates were being removed from the table do not do the meals justice in the slightest!  I left feeling that I could leave Anglia Catering in charge of our wedding food without a worry on the day.  The portion sizes were just right, leaving us full, but not over-full which I hate feeling at a wedding.  I am glad I got the chance to try the other meals beforehand and they were absolutely delicious, although I think on the day, whilst wearing my wedding dress and being busy rushing around I'll be happy of the (only slightly!) lighter options I've chosen.
When I returned home I set out for an easy 75 minute run and had one of those great runs you have where you feel as though you could maintain pace for hours and hours without giving it a second thought.  I hope my race on Saturday turns out like this, but I am pretty sure that it will be a little more challenging through the night with lots of ups and downs and navigating by the light of a headtorch!
If you were invited to my wedding which would you choose?!
Mixed meat d'ouvres   OR   Tomato and mozzarella salad  ?
Stuffed breast of chicken wrapped in bacon    OR   Mushroom and pepper risotto  ?
Profiteroles with chocolate sauce    OR   Pavlova with seasonal fruits  ?