There is so much to write about, I don't even know where to start!
…I think it's best if I start at the beginning and split this epic race up into checkpoints…
Pre-start – Checkpoint 1: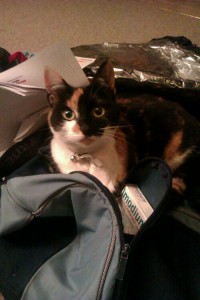 The first time I packed my bag was on Wednesday, then again on Thursday, again on Friday, and it had a complete overhaul on Saturday morning before leaving for the Peak District.  At one point, even containing Bella!
I'd planned on sleeping in as late as possible, knowing that I wouldn't be able to nap for long in the afternoon before the race.  However, good luck texts started coming through to my phone from 6:30am, and heading back to bed was not an option!
Dad had offered, along with my Mum to pick up Dan and I on Saturday morning and drive us up to the race so that I wouldn't have the worry of navigation whilst driving.  (Very much appreciated!)  Dan had offered to cook me a Full English for my breakfast!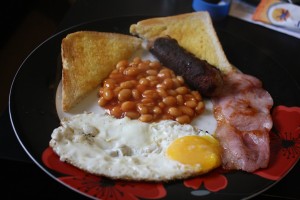 About ten days earlier I had decided to eat my meals in reverse on race day – eating much more for my breakfast than I would do normally, and my usual pre-run breakfast before the race start at tea-time as I knew this suited my tummy for racing.
A last minute decision I made though was to remove the bladder from my backpack before the race began.  I am known for drinking a lot during races, but I have much preferred carrying a water bottle in the past.  The main manned checkpoints where I would be able to top up my bottle were roughly 10 miles apart, and I figured for the first half of the course at least I could always beg water from any houses or pubs I passed.  The removal of the bladder from my race bag meant that it was much easier for me to fit the items from my kit list into my bag and it was easier for me to grab them as required as well.
We arrived at Losehill Hall at 3pm so that I could check into my room, where I found I was sharing a room with Sarah Ledbury who has run the following in the past…Peak 40, Haworth Hobble, RAB MM, SLMM, GL3D, OMM, Scafell Marathon, UTPD.  Way to make me nervous before I'd even begun!  Although she was the first person to ask me 'Are you the woman that won the place through the magazine?…I've been following you and your progress for the past few months!'
After being the first to arrive and bagging a bottom bunk (who would want to climb into the top bunk after running 50 miles?  Or even worse, climb back down again the following morning?!) I headed over the road to register.  Registration required collection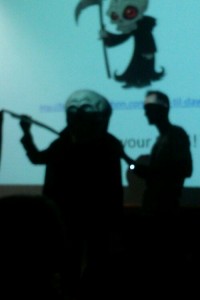 of our numbers, a map and glow stick to tie to the back of our bags, as well as a rigourous check of our kit – maps were not issued until all kit had been approved!
At 4:45 the pre-race briefing began, which lasted approximately 45 minutes and covered in depth photos and illustrations of tricky parts of the course, and a brief talk-through of the route between each checkpoint.  I also got a mention, for being Women's Running winner of Operation Ultra 2013!  And we got to check out the Grim Sweeper, who would be running the course at the 3.55mph cut-off pace (hopefully) behind us all!
Unfortunately I didn't get a great pic of him as the lights were out at this point for effect, but he had a massive head!!!
I met up with my parents and Dan outside before we all walked down to the start line together.  (About a ten minute walk away.)  There were loads of families there to see us off – everybody having their pictures snapped and last minutes cuddles before the start.
Dan managed to get several of me before the start as the light hadn't faded completely by this point yet.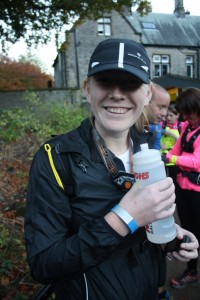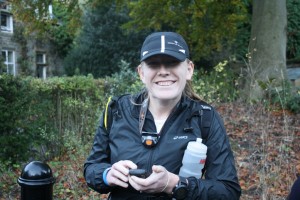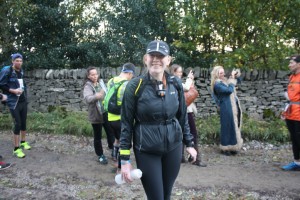 I looked incredibly padded, as every pocket was full with items – jelly babies, my phone, gloves, my hotel room card, the map, a spare Garmin…
My roommate had given me the tip of pinning the checkpoint card to me so this was pinned to the t-shirt I was wearing under my jacket.  I did NOT want to run 35 miles only to have the card blow off into the wind never to be seen again!
The race begun and we were off!  I began to get into a running rhythm relatively quickly, but it felt very weird to have the whole pack running at such a steady pace.  Having said that though, I was soon at the back.  I had expected to be based at the back for the majority of the race, knowing that I am not the quickest runner in the world!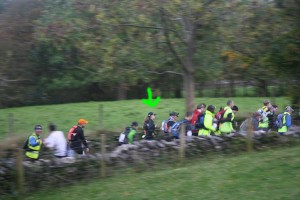 We could literally only run for approximately half a mile, before bottlenecking briefly through a small gate and heading up a steep and stony track.  We had been advised to walk the majority of this hill (which continued for nearly two miles) and I think most of us did.

(Image from the DtD FB page).  The green X is Losehill Hall. The red line is the way out, climbing up and right to gain Losehill (far right). The blue line is the way back (Mam Tor is the summit on the left – Mile 48).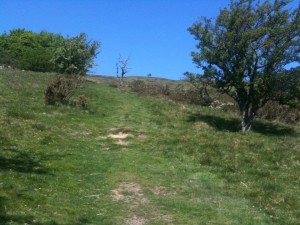 (Image also taken from the DtD FB page).  This was the peak of the first hill, before the track levelled out slightly and four self check-points came into sight for us to stamp our cards with.
TBC…