If you missed part 1, it is here.
Checkpoint 1 – Checkpoint 2:
The self-checkpoint at Checkpoint 1 was just before the summit of Losehill, which my Garmin recorded as 1570ft.  Although I had caught up to a few others by this point, I was the last one through the gate alongside the checkpoint and I could see all the bobbing headtorches shooting off into the distance.
The whole of the steep uphill I had reminded myself that after the first two miles there would be three miles of downhill into the town, but the whole of those downhill miles I was looking forward to heading back up again!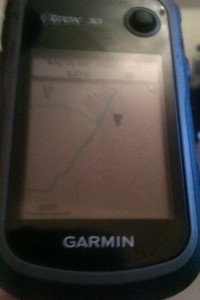 I lost a lot of time on that first downhill section.  We were running back down 1000ft over the course of a mile but the track had now turned into large rocks, which were slippery from the past ten days of rainfall and the runners ahead of me having trapsed mud across them.  They were all at different heights, so there was no chance of getting into a rhythm going down them and I ended up picking my way down, scared of getting injured so early into the course.  About halfway down the large hill I glanced up to see the last of the headtorches infront of me disappear into the distance.  I knew I would run much of the race alone, but hadn't expected to be alone quite so early on.  TIP: Don't rely on being able to pick up speed just because it's a downhill!
I had borrowed Kev's Garmin etrex 30 for the event, so that I could see which way I should be headed with ease rather than have to pull my map out at each turning.  Not long after I realised I was alone I heard a little squeak from behind me which startled me and made me leap round.  There was nothing there.  This happened several times as I headed down the hill.  Initially I thought it was the strong wind catching my whistle which was tied to the top of my backpack, but eventually realised it was the Garmin beeping to let me know I'd passed through the next waypoint on the route, and the sound then became rather reassuring!
The steep rocks turned into a field and it was nice to be able to run again although I couldn't see the exit.  As I held up the Garmin to point me in the right direction I saw a headtorch behind me.  I knew there couldn't have been anyone else that was behind me.  I hadn't passed anyone on the way down!  I suddenly realised it was the 'Grim Sweeper', the person sent out at 3.55mph pace to sweep any stragglers to the next checkpoint and leave them there.  I had a bit of a panic on, although knew that the race pack had said they would be lenient with speed until the first manned checkpoint.  He shouted out from behind that I should bear left.  I asked him if he was ahead of schedule and he told me that he was, by about 15 minutes still, so I was fine.  He had just wanted to run with people rather than on his own the whole way.
It was quite nice running with the Sweeper.  I found out his name was Charlie and that 150 miles was the longest distance he had run, but he had also run 41hours straight once with a lot of ascent to cover 140+ miles.  I was surprised to find out that he had only been running seriously for the past three years.  Even more so later on when I got home and discovered that he was the winner of last year's Dusk 'til Dawn!  The field opened out onto a farm track and then a road, where we passed the first road marshal and Charlie handed over his findings from the path so far – a hat, gloves, a map, lots of tape…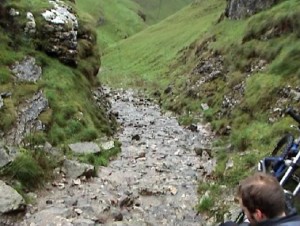 On the road I managed to pick up a bit of speed again and was really enjoying the challenge of running at night and navigating the route as I went along.  It was around this point that I remembered the Operation Ultra boys' advice to keep eating throughout so I opened up the bag of Jelly Babies in my pocket and popped one into my mouth.  We weren't on the road long though and soon turned off onto a narrow track that headed steeply uphill.  We had been warned about the track beforehand – if there had been much rain it would turn into a river that we would have to run up.  By this point it was raining and I was glad of my cap and waterproof.  I knew the best technique was to power on through and move as quickly as I could at all times, even though much of the route was unrunnable.
I could see headtorches in the distance! And soon caught up with a group of about seven others, who also panicked when they saw the Sweeper with me.  They all had maps out and were debating which way to go.  It made me very glad that I had borrowed the Garmin for the event and I led the way over the stile.  It wasn't too long before I was at the back again, but it was reassuring to once more see headtorches infront of me.  It was still constantly raining and even hailed for a tiny little while.  I knew we were weren't far now from CP2, the first manned checkpoint and we came out onto flat road again.  Charlie commented to the three or four of us that were at the back that the checkpoints were normally lit up like airfields and it was easy to spot the bright red lights from a distance when they came into view.  I picked up pace a little to get my water bottle filled and check for Dad, Mum and Dan.  There were a couple of cars parked behind the main checkpoint car and I soon spotted Dan heading towards me.  I drank about two inches out of the top of my water bottle before getting it filled again and rushed over to Dad's car where I filled them in on the first 9.5 miles.  I blinded them several times with my headtorch whilst doing this!
I was really buzzing and upbeat and Dan later said that Mum had been getting worried as I was taking so long to get through the first manned checkpoint.  I purposefully hadn't given her any predicted times for this reason!  Knowing that it would take me much longer than a road race!  Checking Facebook later on it turns out that I had my chip scanned at 20:18.  The race had begun at 17:46 so it had taken me two hours and thirty-two minutes to cover just 9.5 miles!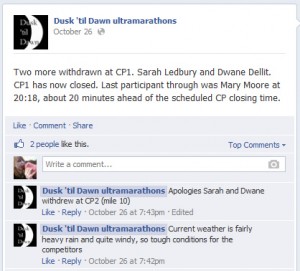 TBC…