This week was half term from school.  My birthday always falls in the October half term and I quite like not having to work on my birthday each year.
As the Dusk 'til Dawn race was only last weekend, Dan had banned me from running the entire week, as had Phoebe.  This was very frustrating being at home and seeing everybody that had run the DtD tweeting about various runs they were out on.  I was also desperate to get back to club.
But in the end the week actually ended up being quite busy…
MONDAY: My legs didn't work very well, having tackled numerous steep hills the day before but luckily I had a lot to catch up with online and also a telephone interview to give for Women's Running mag so I spent the day working from bed.  In the evening we headed down to the Pub Quiz, which we've been meaning to do for a while now.  There was even a running question, although I got the answer wrong.  Apparentally the oldest marathon in America is the Boston marathon.
We must have looked hilarious coming out of the pub at 10:30.  Dan hasn't long been out of his cast and around his ankle is still very swollen.  Although he can now drive, at times he finds it painful to walk.  So he was taking teeny-tiny steps down the disabled ramp out of the pub.  My thighs were incredibly achy from the race the day before, so I was gripping onto the railing and walking sideways down the steps alongside him.  Haha!
TUESDAY:  I spent the day in school sorting out the computers in classrooms for next half term.  Not much to report back.
WEDNESDAY: Spent tidying the house and completing more of the knitted animals for my neices and nephew, then met my friend's new pony – 'T'.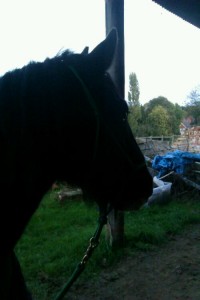 THURSDAY:  My actual birthday.  We decided to go to the zoo.  (Pictures to follow.)  And then out for dinner in the evening.  Despite working as restuarant manager for a couple of years at Frankie & Benny's when I lived in the Midlands, it is still one of my favourite places to eat out.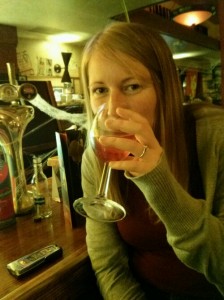 However, it does mean that I find it difficult to relax when sat in an F&B's restuarant, as my eyes constantly scan the restaurant mentally doing the checks I had to complete daily in my own restaurant.  We had our first poor F&B's experience on Thursday which was a shame as we were out for my birthday.  We waited 35 minutes, despite many tables not having been bussed, and waiters stood around chatting.  I then found my beloved herb potatoes have been removed from the menu. 

  We ordered two mains – both ordering a calzone, which I know to take 2.5minutes in the pizza oven, yet we waited 45 minutes facing the kitchen, watching the kitchen staff mess around whilst tables of people around us that had arrived to the restaurant after we did paid their bills.
When the food finally arrived, it was so burnt I couldn't put my knife through the base of the calzone and ended up leaving half of it, picking the toppings off.  Dan's was similar.  I would have mentioned to the waiter, but we didn't see him again until he came to clear away our plates – 20 minutes after finishing our meal when Dan made a comment.  We really just wanted to get home by then though.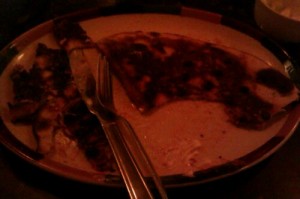 On the Friday, we spent the afternoon with Dan's sister Sarah, his nephew Jenson, and Sarah's partner's daughter, Evie.  Sarah is heavily pregnant, actually due on the Sunday and they are looking to move closer to Dan's parents soon, so we went to see if there was anything we could do to help but actually just spent most of the afternoon playing with the kids.
Afterwards we headed through to Peterborough where we were going to a Murder Mystery party with our friends Vick and Alex, who had bought tickets for my birthday.  We decided to get dressed up to attend and had lots of fun – even coming second out of 16 tables!  We guessed the killer right, but didn't write enough of an explanation on the paper to win outright!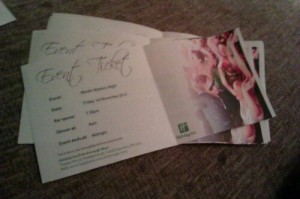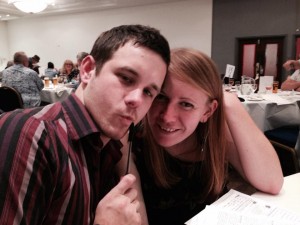 Vick and I have celebrated my birthday with several home Murder Mystery kits over the years, but we've never been to a proper Murder Mystery sit-down meal event before and this was lots of fun!
SATURDAY: We headed to Dan's parents in Wolves, where his Dad took us, and Dan's brother and girlfriend out to watch the Wolves V Stevenage game.  We picked up a hotdog beforehand and Dan made me wear my Wolves shirt he bought me a few years back.
It was so, so windy and cold, my feet went numb and I kept my hood up for most of the game – over top of a strappy top, long sleeved jumper and Wolves top!
In the evening, the five of us, along with Dan's Mum and Nan went out for a nice meal at The Greyhound and Dan's Mum presented me with this beautiful cake!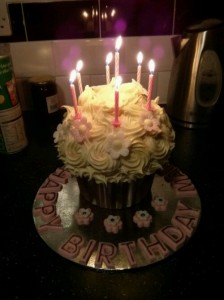 All in all, a busy week.  I'm looking forward to heading out for a run in a bit and then I have lots of work to catch up on before heading back to school on Wednesday.  Best get cracking…!