I mean the sort without a watch…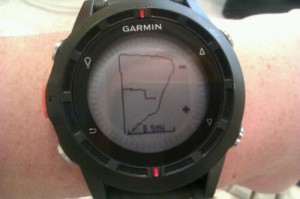 …but in actual fact there was a little bit of nakedness in my run last night!
I had planned to meet some others from my running club in a nearby village at 6:30 after work.  Rather than head home, get changed and head back out again I decided it would make more sense to get changed at school and then head straight to the run meet point.  However, I didn't account for getting kicked out of school at 5:30 as the Headteacher wanted an early tea!
I was kicked out so quickly I didn't even have time to go to the toilet before leaving.  That's fine – there will be a garage on route right?  There was, I missed it.  I found where we were meeting and then spent 10 minutes driving around looking for a pub so that I could sneak into their toilet and get changed before meeting the others.  Couldn't find one anywhere!  By the time I arrived back at the village Square, several other runners were there and the only available parking space left was in the midst of all the other cars.  I parked up, shot my seat as far back as it would go and hoped that nobody would shine their headtorches in my direction whilst I stripped my layers off!
Eventually changed into a t-shirt, running jacket, tights and trainers I lept out of the car before anyone noticed what I had been doing, completely forgetting my watch…hence the naked run!
There were eight of us, with only two runners wearing watches, and both of them forgot to start their watches at the beginning of the run!  As a guestimate, we ran about 8.25miles, through ploughed fields, over stiles, up hills, through puddles…it was GREAT!  I got to fill a few people in on my Dusk 'til Dawn adventure and recruit a few more for the 2014 mission!  I've got three takers so far!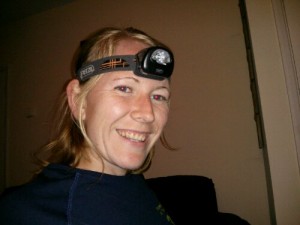 I need to get myself a headtorch – I borrowed Kev's again for last night but I think it's safe to say I'm serious enough about running now that I need to purchase a headtorch!  Any recommendations?  I've only really tried the two I borrowed for Dusk 'til Dawn and the price between them differed by £40 yet they both did the job!
Stupidly I didn't wear the same trainers as I did for DtD…so now I have two horrifically muddy pairs!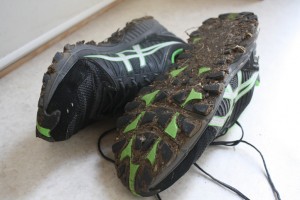 Yes, DtD was nearly a fortnight ago now, and yes, I am yet to clean my trainers!!!