On Saturday I travelled with my friend Zo and her sister Katie to the NEC Craft show.
It has been something we have done all together for the past four years now, with Zo and Katie going for the past seven years.
I always forget how tiring it is by the end, from being on your feet all day and constantly leaping from side to side to dodge prams and mobility scooters rushing past you, and all the queues!
We always start off in the Crafts for Christmas section, so that we can get ideas for things we can make.  This is where we spotted this amazing snow!
It's actually by a company called 'It's Amazing!' which I thought was great!  The guy behind the stall put some in my hand and 'It's Amazing!' were the first words out of my mouth!  Exactly the same words as the next two people after me to see it demoed!
Next it was onto the Hobbycraft side.  We get as far as the painting aisles, before stopping to recharge with lunch ready for the manic side of the exhibition!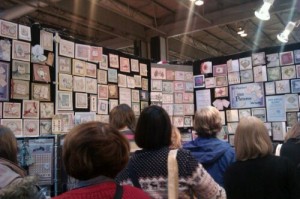 There wasn't anything I really needed this year, although I planned on grabbing some wool to complete the Noah's Ark animals I'm working on for the nieces and nephew for Christmas.  I was mainly planning on using the exhibition as inspiration for Wedding invitations and thank-yous, although being so close to Christmas, lots of the ideas focused around the Christmas theme.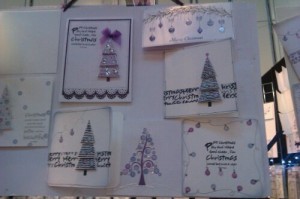 Some of the cards are so pretty.  If only I didn't have to work and could just spend all my time running and crafting, I would be one very happy person!
Dan had left for a lad's weekend to celebrate a friend's birthday by the time I got home, so I was left with one very mad cat and feeling rather lazy after trapsing around the NEC all day.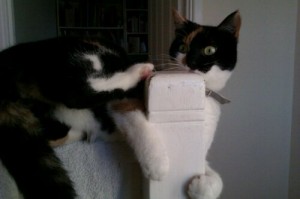 So I decided to have a film session, whilst getting a bit more knitting done and eating tea.  I got through the films '21' and 'The Parole Officer'.  Both seen several times before and both great films!
My 'Noah' is nearly complete now – with boots and an apron…I just need to finish his Rainjacket and knit him a face!
Luckily Bella decided to calm down and sleep on top of the sofa with me for the evening.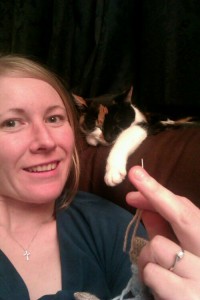 On Wednesday I became 'Auntie Mary' again, as Dan's sister had another baby.  Her name is Isla and she was born at 2:13am weighing 7lbs, 14oz.  Sarah (Dan's sister) was expecting her to be a few weeks late, like her first one was.  Her due date had only been a couple of days before and so the whole family headed out to watch the firework display on Tuesday evening, only for Sarah's waters to break!  Luckily all was well, and although she didn't make it to her planned delivery hospital she had a quick birth and Mum and baby are fine.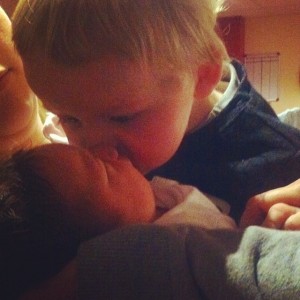 Big brother Jenson hasn't been so sure though, and has been avoiding Sarah and Isla, not sure what to make of it all!  Sarah did capture this sneaky kiss on camera though!