Which actually wasn't in Wootton, it was at Hunsbury Hill in Northampton.
Wootton usually hold their event at Delepre Park, but this year there was another event happening there on the same day which made this impossible.  As a new course we were asked to feed back on what we thought of it.  The course itself was very nice but as a lap course (3 mini, 2 large) it got a little confusing and there were several narrow sections which bottlenecked early on.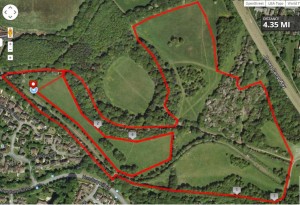 We managed to get a team photo at the beginning, although a few people missed it as they were still warming up.  In total we had 62 runners from our club there on Sunday!  (I'm at the back towards the middle wearing a red t-shirt.)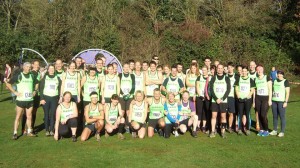 Our club runs as part of the Three Counties Cross-Country league and this was the second race of the season.  I missed the first, as it was the same weekend as Dusk 'til Dawn.
After a minute's silence for Remembrance Day the gun went and we set off…very quickly.  My friend Jenny said I shot off from infront of her and she had been travelling at an 8:40mm pace.  It wasn't for long though and by 0.25 of a mile we had all come to a standstill as the track narrowed and the 485 runners tried to pick their way through the narrow muddy section ahead.  I lost what lead I had gained.  After scrambling through I picked up a bit of speed again around the field, past our supporters until we reached the way out of the field, which was also the way back in for each inner lap.  It was a short, steep and muddy climb which slowed everyone down with no real space to overtake.  Picking up speed again, down over a slippery bridge, sharp left and through some trees to another slippery longer climb which saw us all bottleneck for the third time in less than a mile!  Luckily after a mile runners had spaced out a little more and no more major bottlenecks occurred.
I wasn't running at my best.  Being on my feet wearing Converse, which have literally NO support at all for the craft show the day before wasn't one of my best plans and the right side of my right foot had been aching all morning.  About two miles into the course I felt it almost crunch and altered my run stride for 100m or so until I felt I could run on it again.  Silly Me for being stubborn as I've had to rest it since Sunday and probably won't be able to run on it until Thursday now as it feels swollen.  Whilst talking about injuries, go show Anna some support.  She's currently training for her first marathon in December and is out of action for a week.  Fingers crossed she'll be back again soon!
Coming back onto the field for the final mini lap was an amazing feeling.  As always, our club were out in force on the supporting side.  I could hear my name being screamed across the field by the club captain and it spurred me on for a super sprint finish, although I didn't manage to overtake the two women just infront of me as quite a way infront of me they had also picked up the pace.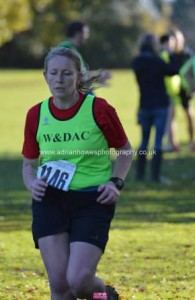 Here's the official finishing pic.  Horrific!  Don't zoom in on my right arm either.  It's doing some crazy leap-out-of-it's-skin thing.  I like to think that's cos I was moving so fast, but in reality it's probably just because I have weird arms.
Once over the line I grabbed my chip and passed it straight to our club rep, Alan.  I didn't even think to see what number it was until afterwards.  I sat on the nearby bench for less than a minute before jumping up and cheering the rest of our team in.  There were still six more of our club out there.  I finished 161/183 lady and 454/485 overall.  Next cross-country will be better!!!
We took a slow 20min ish amble back to the race HQ where the queue for the free ham and cheese roll and cake meandered several times around the hall and actually took longer than the walk back had!  But free food at a race is always a bonus so we didn't mind waiting!
I shall miss the next race in the series, as I shall be at the Write This Run event, but plan on making the final two of the series and getting round higher up the rankings.
My average pace was 10:12mm over the 4.3mile course, which I don't think is too bad considering the bottleneck stops, muddy terrain and lack of quick running I've done lately!