After the Dusk 'til Dawn ultra, I was fully up for having a more relaxing week of meals – especially as Half term and my birthday were the week following the ultra.  All Summer I have been conscious what I am eating (without being obsessive), and have worked out 6 days a week, whilst also completing strength work seven days a week.
I was comfortable having a week off from my routine, although towards the end of the week was very antsy to get back running again.  However, that one week has now nearly merged into three, and I'm still not into any real sort of routine.  I ran a total of just 20.74 miles last week, over four runs, and I am yet to attempt any form of situps or crunches!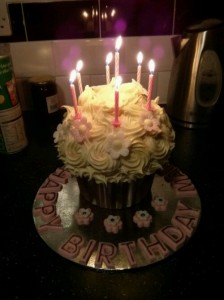 Half of the massive birthday cake was consumed within a week between Me and Dan, and yesterday I ate a whole medium bar of chocolate I was given for setting up the computers in the DT lab downstairs.  And these are not out of the ordinary events over the past 21 days!
SOMETHING NEEDS TO BE DONE!!!
I must be one of the very few brides-to-be that isn't actually really fussed about losing weight before the wedding.  I thought I would be, but I've found my dress and it looked perfect.  Why would I want to look unlike the real me for the day?  However, I am fussed about remaining healthy and that has gone by the wayside just lately as I've concentrated on everything I didn't have time for pre-ultra…family, relationships, work and friends.
This morning, whilst checking in with Facebook before work I spotted the 30 Day Plank Challenge, which a friend had posted to a fellow friend's wall to help her prepare her body for the London Marathon next year.
I'm planning on giving this a go!  There are a couple of rest days thrown in there, to give my core a chance to recover and breath again and I kinda like the idea of holding a FIVE MINUTE plank!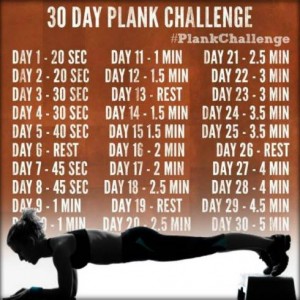 When I googled for the image, I found the Plank Challenge listed on Raw Rebecca's website, where there were also instructions for the 30 Day Squat Challenge.  Why not?!  I like to have a purpose to my workouts, and with limited direction until beginning my VLM plan at Christmas this will give me something to work towards.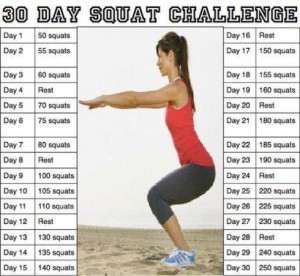 Has anyone tried a Plank or Squat challenge before?  How did it go?!