In some odd way it's nice, almost a relief knowing that I can't be tempted to enter Bedford half or Nene Valley 10 both in a few weeks time. I'm pretty sure that if I hadn't have gotten injured I would have ended up entering at least one of them and then ended up being disappointed with my time.
Offering to pace Jenny was my way of taking the pressure off myself at St Neots half but I still would have put a lot of pressure on myself to make sure she got round in the time she was after.
To come back in 2014 as a stronger runner I know I need to continue with my training now, whilst I am unable to run.  I want to continue with my training now…I'm just not sure what I can do!  The next three-four weeks is going to heavily feature upper body strength training – I have lots of situps and half press-ups planned!  Also, lots of weights and that thing rugby players do when they put their arms out to the side and move them in small backwards circles like in the picture below.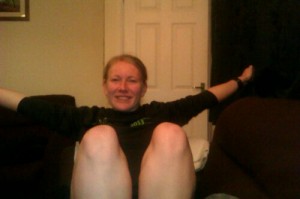 Ignore the happy look on my face.  That is a front.  I'm not very happy!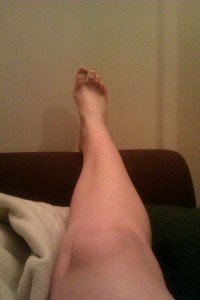 My foot was iced repeatedly on Sunday evening, and then spent several hours elevated on the couch.  Dan made and brought me tea, but I'm not a very good patient.  I was pretty grumpy and very restless.  Dan told me that he was dreading when we had a family, as I would be a rubbish pregnant person.  I told him I would run all the way through my pregnancy.  He didn't believe you could do that so good old Google proved me right.  He then told me that running clothes wouldn't be supportive enough, so again, Google showed him wrong.  His next stab at being right was that I would get grumpy after birth, when returning to running with slower times so I found him studies about women who had dramatically improved their times following having children.  And then Dan wouldn't play anymore…!…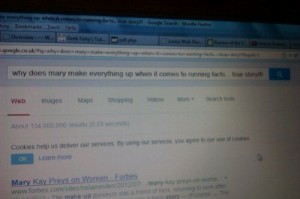 *** NOTE:  We are a long way off having kids yet!
Anyway, the cross-trainer and swimming got me by when I was injured over the Summer, yet this week I'm not allowed to do either, and no cross-trainer for the following 2-3 weeks either.  My foot aches while I'm lying in bed typing this. 

  I am generally a very active person and the fact that at the moment I can't even walk my parent's dog up the road is very depressing!
It did worry me yesterday when my foot started aching that more might be wrong, but I shall give it a week and see if I can get in at the physio to find out more.
Until then, I'm open to ANY suggestions for exercises to do without the use of my foot!  I'm going to attempt to build up some sort of routine that I can work on each day to strengthen and tone my upper body…this is what I've come up with so far…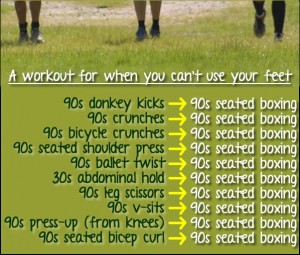 Any suggestions/modifications?  Other than seating boxing, I'm unsure what cardio is really practical for me to do this week.
Press-up from the knees | V- sits | Leg scissors | Seated shoulder press | Abdominal hold | Ballet twist