Yesterday was the day of my sixth half marathon.  St Neots half is very difficult to get in to – it's a very popular race with a beautiful course out in the countryside that this year filled up within 15 hours.  Entry opens way back at the start of June, so I had booked up my place before winning my place on Operation Ultra and training for the ultra had begun.
I knew just three weeks after an ultra my time wouldn't be the best so I offered to pace my friend Jenny who was aiming for a 2:20 half marathon time, hoping to take the pressure off myself on race day.
I gave both Jenny and my friend Hayley a lift to the race start.  When we arrived the main car park was full, so cadets were directing runners to park in random business car parks nearby.  They told me to park sticking out of a layby, but after 10 minutes of Hayley shouting 'Forward on full left, back on full left…' and me being nowhere closer to parking in an acceptable fashion she lept into my car and did it in one!
The hilarity continued as heading to the race start I realised I wasn't wearing my trainers, as they had been too muddy to drive in so I had thrown them into the boot!  We arrived in perfect time though at 9:15 – although the race began at 10, I like the rush round before a race – collect my number, toilet trip, bag drop, last drink and head to the start.  The queue for the portaloos actually moved quite fast and involved me hopping along on one foot as I tried to take my trainers off to pull my jeans down over my shorts and put my trainers on again whilst keeping my place in the queue!
At the start I bumped into another friend, Sarah, who was also looking to run a poor race!  She said as long as it wasn't worse than her worst – 2:02 – she would be happy.  If only 2:02 was my worst half time!!!  (She later went on to run a new PB – 1:51!)
The gun went, we wished each other luck, looked confused as the pacers didn't appear to be moving, and then realised that they were just holding pacing sticks for the positions on the start line.
As at any races, most people probably set off too fast, and Jenny and I made a conscious decision to slow.  To beat Jenny's PB the aim was to stay around the 10:30mm mark, but we ran the first mile in 10:14, then 9:59 for mile two.  Mile three was on target at 10:28 and then my foot began to ache.  I'd taken a whole week off from running this past week in the hope of it recovering but had been favouring it all week.  I said to Jenny I was going to grab a drink, so powerwalked up the mini hill through the village and when I ran again it was with a big limp.  I slowed it right down, rightly telling myself I didn't need to catch up to Jenny immediately.  I got to mile three and a half and the ache was getting worse.  At the mile four marker I felt another 'crunch', the same as I had the week before at cross-country and I knew I would be stupid to continue.  I have more important races coming up and I would be so upset if I missed London, or couldn't train properly for London.  I turned around and hobbled back towards the ambulance at mile 3.  This did at least let me see the lead runners come through.  The first guy had a massive lead on the other runners and I gave him a big cheer as he came past.  Each person that came past me I clapped and shouted out 'Well done!' to.  I was touched by how many spoke back to me, along the lines of 'Tough luck', or 'Well done'.  Normally the front runners are concentrating, set on their race, and I don't blame them for doing so.  Several of the back marker runners stopped to see if I could get back to the ambulance and one of the very front runners managed to gasp out 'Thankyou.  Sorry you're having a shit day.'
The marshals were great and by the time I arrived back to the ambulance a marshal had radioed back to base to let them know I had retired and required medical assistance, where I was helped up into the ambulance.  I took my shoes and socks off, apologised for my 'runner's feet' and saw that my right foot had swollen up slightly.  One of the ambulance crew wrote down all my details whilst the other put pressure on each of my feet to compare the difference between the two.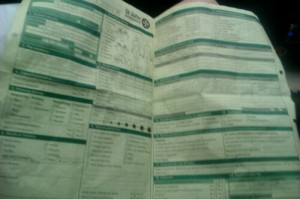 Somehow, they managed to write down that it was on my left foot, not my right!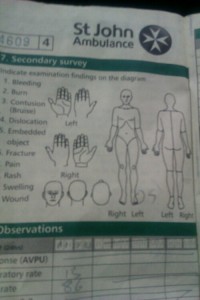 As the swelling went down considerably they determined that it was unlikely to be a broken bone, although to head to A&E to get this confirmed.  It was most likely to be muscle or ligament damage, and after about 45 minutes in the ambulance I was ushered into a marshal's car, along with two other injured runners and taxied to the finish line.  Through the ambulance windows I had seen both Hayley and Jenny come through the nine mile mark (this was the same point as the three mile mark) and both were on target for new PBs which made me feel a little better.  I had felt bad for leaving Jenny and not even being able to let her know.
I arrived at the finish 2hrs 4mins after I begun.  How do I know this?  Because I then received a text on my phone saying well done for finishing St Neots half marathon!  This made me sad and reminded me I'd failed. 

I lept to the other side of the road where I had spotted Hayley's husband, Callum and her kids holding up a large banner ready to cheer Hayley in.  Callum said that they had seen Hayley a couple of miles back and she should be on target for a new PB.  Her last PB had been set at St Neots the previous year and was just under 2h 17m.  She hasn't trained much lately and was doubtful of finishing strong.  Therefore, none of us expected her to power past us as the clock read 2h 08m 32s!  A fantastic new PB!  I was really happy for her and couldn't stop beaming.  One of the marshals commented that I shouldn't be smiling so much, he'd seen me limping back to the ambulance earlier on!
Hayley then joined us by the roadside to wait for Jenny.  The clock turned over to 2h 20m and I felt awful.  I hadn't gotten her in under her requested time of 2h 20m.  I knew she couldn't be too far away so stayed posted on the line and saw her in the distance to give her a big cheer as she ran through.  Hayley and I headed round to get our goodie bags and grab Jenny.  Watch time = 2:19:13…another new PB!
I rang Dan who said he would take me through to A&E to get my foot checked out.  His turn to drive me this time after weeks of me taking him up when he broke his leg earlier in the year.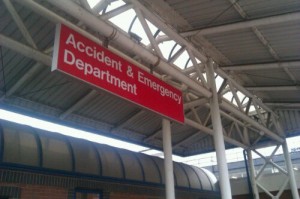 I was seen really quickly and taken through to x-ray.  Luckily nothing is broken, and there is no ligament damage, but bad muscle damage and I have been advised to take 3-4 weeks off from running, with at least one week of no exercise, – not even swimming.  I asked.  Obviously I want to recover strong, but once again this is such frustrating news – having to take more time off, but this time with no cross-trainer or swimming allowed!  The doctor said that she was aware that most runners or footballers would not last the full time off before returning to their sport but that I should be 100% confident that I had fully recovered before putting my trainers on again.
I have a feeling that week is going to be filled with situps, half press-ups and weights.  I don't want to lose my base fitness!