I think it's about time I got some of my thoughts from the weekend into some sort of order and down in my blog before I kick myself for forgetting the details!
My initial plan had been to head to my friends' house in London on the Friday night where they were planning on seeing the Christmas lights in Hyde Park.  Way too tired to drive to London after work I settled on heading to the cinema to see The Hunger Games: Catching Fire with Dan instead.  Fantastic movie.  Really kept to the story and I'm glad to see that the same director is directing the final book (in two parts) over the next couple of years.  Although to be honest, I wouldn't have minded so much if they altered the story a little towards the end of that one.
Up at 5:30am on Saturday morning to shower and get ready for Write This Run in Sandown Park.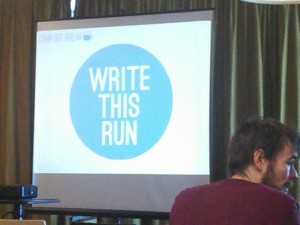 Like last time, my favourite panel was the Inspirational Speakers panel at the very beginning.  We heard from Jennifer Bradley; the first woman to run across the USA.  Sophie Walker who runs as a way to help her cope with her daughter's Aspergers and Simon Webb, who is currently in the middle of writing a book about the sights of the London Marathon.
I was most interested in hearing Jennifer speak.  It seemed that several of the speakers this time round had 'ultra' tendancies and that suited me just fine!  What an adventure she had had though!  80 days of running an average of 42 miles per day.  And it was mainly trail running!  She even ran through Idaho on Day 14, through some of the areas that I stayed as a teenager when I spent a total of four months out there.  (My best friend's Mum found out that she was adopted and her real family lived in Idaho and I went over with them after my GCSEs to meet their family.)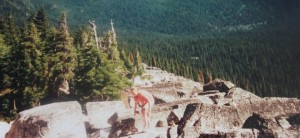 Jennifer ran a total of 3302.85 miles over the 80 days at an average of 9-10mm pace!  As part of her training she ran 150 miles a week for the three months before setting off on her challenge and her handy words of advice were…
"You can only eat so much…even in America" and…
"Look after your feet!"
Jody Raynsford rushed through a super long presentation as part of the 'Better Blogging' panel in just 15 minutes, but made us all laugh along the way.  And promised to post a link to the full presentation on his website later that day.  True to his word, you can now download the whole presentation here.  He let us know that…
"Writers block doesn't exist" and that…
"People care about people" and that…
"There are 200,000,000 bloggers out there…don't be afraid to try something different!"
Clifton Bradeley was one of the speakers in the 'Run Strong' panel, who had belted out a sub 4 minute mile early in his career, before snapping his pelvis in the same race, thus ending his career.
Another speaker I was interested in hearing was Robbie Britton although I enjoyed his talk much more than I intially thought.  Robbie came across as very down to earth and genuine guy.  I was very surprised to hear that he tends to run weeks of 60 miles.  That's not a huge amount more than a club runner.
"I got a 12 hour PB!" (on his second 100 mile race) and…
"Running an ultra around a mile loop…but then the following year running it round a 400m track!"
I had planned to stay at my friends' Tom and Bradley's house again that evening, to return to the Running Show on the Sunday.  No longer able to race the 10k I thought it would give me extra shopping time, and there were lots of seminars taking place that I wanted to listen in on.  However, when it took me nearly two and a half hours to get to their house just 16 miles away I was tired, grumpy and they informed me they were heading out for a friend's birthday.  So instead, I got myself some chips, had a quick catchup with the boys and drove home to Northamptonshire, where I was asleep within minutes.  Still with my name badge on and Running Show wristband around my wrist.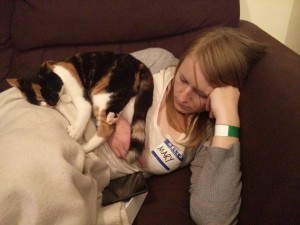 I'm not sure why Bella was so sleepy.  Dan assured me she'd slept most of the day!
On Sunday I was then able to see a little of Dan.  We had a bit of a lay-in, followed by a lazy morning before sorting the house out and heading out for the Christmas light switch on in our town.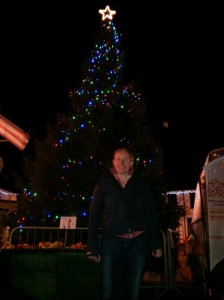 I wore five layers and my coat would barely do up!  I didn't get cold though!
When we came back we decided it was time for a hot chocolate, feet up infront of the fire and a board game.  Good end to a relaxing day!