I knew I had to make my way to a physio to find out what was going on with my foot, and how best to get back to running as quickly as possible.  BUT I didn't know what to look for in a physio, what to ask on the phone, how it all worked…should I wear shorts or tights?!
Luckily, Sarah piped up and said that she knew of a good physio in Northampton if I was after one.  I told her I was, and my first trip to the Maple Tree Clinic took place last Thursday on my way home from work.
The signup form had asked for a referral name, so I put down Sarah's, and as I was walking through the door Wayne, the physio commented that to know Sarah, I must be a runner!
From initially feeling my foot and listening to my symptoms, Wayne thought that I had fractured the fifth metatarsal on my right foot, although when I told him that I had been x-rayed he assured me that there could be other issues.  He had already picked up on the right hand side of my body being weak and 'lazy'.  He had asked me to do some squats when I arrived, and then some one legged squats.  As I prepared myself for the squats my left foot stayed out straight in front of me but I turned my right foot outwards, almost to brace my body for the activity.
Again, when I completed my left legged one leg squats my foot stayed straight.  As I went onto the right leg, I twisted my toes out and I struggled to keep my balance.
This is an exaggerated picture of how I stand and, I've since noticed – walk, all day long.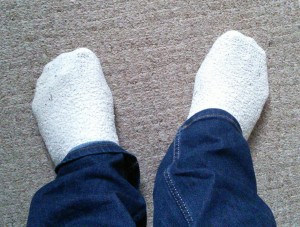 Obviously, not good!  He also noticed that whilst standing still I rest my right leg completely and all my body weight goes onto my left – every time.
Because I haven't been engaging the muscles in my right leg and glute I'm now beginning to have problems, including the weakness in my foot on the right side, and also in my glute from way back into the Summer when I had issues (which have recently striken up again, despite me currently not running).
This week I'm to…
* Do lots and lots of cycling!  I don't have a bike, so this means heading to the gym before work.
* Squat with both feet facing forwards 2×15 twice per day.
* Squat against a wall- with my left leg resting lightly against the wall – bent and tucked up at 90 degrees, my right leg facing forwards and doing all the work.  2×15 twice per day.
* Stand on just my right leg whenever I catch myself standing still.
He asked which were my goal upcoming races, and when I said London he said I would be fixed in plenty of time to begin my 16 week training plan for London.  I should hopefully be running again after my next visit in just over a week's time.  Although no further than three miles to begin with.  I literally have to learn how to walk again!
This morning I headed to the gym for a 6:30 start, as Dan's car was due in at the garage at 8am so I had to lend him mine to get to work whilst I took his car to the gym then dropped it in at the garage on the way home.
WOW! My gym got good! 

  I've been using the gym on and off since getting injured in August when I was using it full time.  From July they have been undergoing improvements and it's been pretty boring to be honest.  The machines all faced the wall and were just bog standard rowers/treadmills/bikes/cross-trainers.  It was very small and often crowded and there were no TVs.  The classes took place in the same room as the gym equipment so all you could ever hear was the very loud music coming from the centre of the room – podcasts on the iPod just didn't make it through that sound!
Today was the first time I've visited since it's been complete.  The machines are all connected to the internet, as well as showing TV channels, and you can log in to any of the machines to track your workouts and progress across the different equipment each time you visited.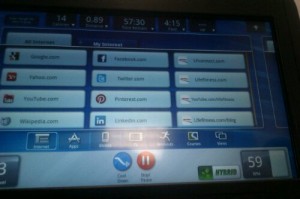 Because the main machine I'm working with whilst injured is the bike (which I'm not a massive fan of!) it was great to be able to sit there this morning and catch up on a few blogposts whilst working out.  I even sent out a tweet during my cool-down period!
On Saturday we decided it was time we began our Christmas shopping and spent two hours online buying more than half of our Christmas present list.  I felt like we'd really gotten somewhere!  We headed into Milton Keynes for the afternoon to hopefully buy the rest of our shopping, and also choose our wedding rings, but all we came home with was a new belt for Dan.  It was so Christmassy there though!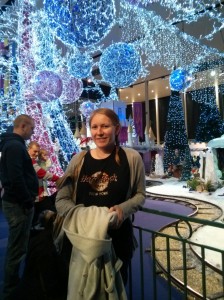 I'm having problems finding a wedding ring to fit my engagement ring.  My twist seems to be the wrong way for most 'fitted' rings and I don't like the idea of having a gap on one side of the ring.  Any suggestions?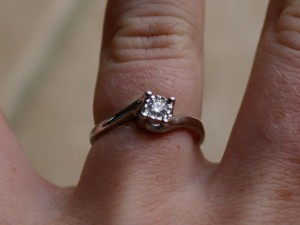 We stopped in to Buddies for a meal on the way home.  I reattempted the Nacho salad, which is so delicious, but just too much on a plate for one meal.  This picture does not make it look very big at all for some reason!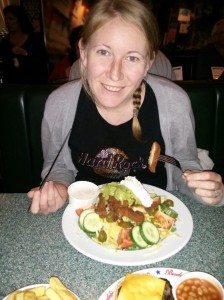 They had completely forgotten my nachos as well, which I only realised after Dan had taken this photo but the waitress got the kitchen to add them on – making a massive meal even larger!  I got a little more than half way through this time.  Progress on our last visit!