Yesterday was a day of hospitals.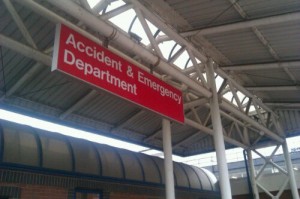 (I'm pretty sure they recognise us there this year!)
It was my Mum's cancer check after her second batch of chemo in the morning.  All is well and although the cancer still exists in many areas of her body it doesn't appear to be growing further at the minute.  It still needs close monitoring but she is hospital free now until the New Year!
In the morning I was sat catching up with my emails on the sofa when I noticed a status update from Dan's sister, Sarah on Facebook stating that her doctors were being very unhelpful.  I hadn't heard anything about the kids, so pressumed it was just a routine visit, although a few comments from other people soon made me aware that her four week old daughter had become covered in a rash all across her face, chest and back which appeared almost blistered.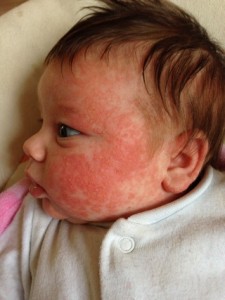 Sarah doesn't drive and couldn't get Isla to A&E which is where her health visitor had advised her to head.They live just under an hour away from us in Lincolnshire and as I wasn't at work I offered to drive over to collect her and take the pair of them into Peterborough hospital.  She took me up on my offer and after we had dropped her son off at a friend's house we headed to A&E with Isla.
On arrival we were stood front of line waiting to be called up and give in our details when a lady rushed out of a room by reception and sped past us with another lady in hot pursuit shouting out "STOP THAT WOMAN!  CHASE HER NOW!  RUN!!!"  For a split second I almost did, and had we not had Isla's carrier and bags and had my laces not been tucked into my trainers and instead tied I think it would have been an exhilarating return to my running!  However, I also thought – "I'm not sure what's happened…what if the woman at the back is the crazy one?" and by the time my head had weighed up the pros and cons the woman was already out the door, with the security guard finally rising from his seat.  He looked rather large and jogged a few steps before bending down and rubbing the heel of his foot.  Why do they make armed security guards wear pointy shoes?!  And do they not have to pass some sort of fitness test in order to work as a security guard?!  Anyway, he then trapsed after the two women that had disappeared off into the car park, before losing sight of them and returning to the entrance of the hospital to huff and puff for backup into his radio.
The woman that had given chase returned ten minutes later and was whisked away by more security.  We never did know what had happened but it made our 45 minute wait a little more exciting!
Isla was declared OK by the doctor, and it was just a 'dry rash'.  Sarah is to apply vaseline daily until it goes down again.
However, heading over to theirs at 12pm and returning at 6:40pm meant that I missed my phsyio appointment that had been booked in for yesterday.  For ten days I had religiously followed my strength exercises and spent 90-120mins at the gym on the bike each day to maintain my fitness alongside core work.  Yesterday I was so hoping for a diagnosis of 'You can run again!'  And as soon as I arrived home I rang the physio to see when I could rebook for.  (Dan had already rung to say I had had to rush my neice into hospital and to let them know that I wouldn't make my appointment.)  My new appointment is now not until next Monday lunchtime, so it looks like another week of gym work is on the cards.
I'm not ashamed to say I cried when I got off the phone.  I don't want to return to running until I have the go-ahead by the physio as it's so close to beginning my London training plan now and I really don't want anything to go wrong for that, as I have one of the club places for the race.  Who knows if I'll ever get another London place again?!  But I was so looking forward to (hopefully) getting back to running again this week or at least having reassurance that what I was doing was working.
I did go and pound out 150minutes at the gym this morning and that has made me feel a little better, and I am at least one day closer to Monday already…just six more days to go!