Friday night was my running club's Christmas do and awards ceremony.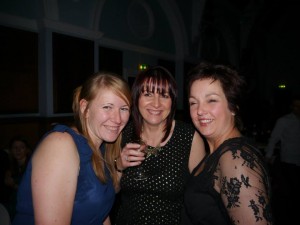 (Hate this picture, but it appears to be the only one of me from the night.)
Each year awards are given for the most improved/hard working member of each running group.  There are also awards given for the male/female fastest (going on age grading), male/female triathlete and then overall Runner's Runner of the Year male and female.  The Runner's Runner of the Year is voted for by the members – they each get one vote for a male runner and one for a female runner and they must back up their votes with reasons as to why that person should be known as our club 'Runner of the Year'.
Last year I was asked to make videos for the nominations, and again this year.  In fact, the club chairman said that it is now forever my role!  The nominations all come through to me so I could choose one nomination from the list for each nominated person and include it on the video.  It has been so inspiring reading through what some people have achieved this year.  (And a little bit depressing knowing that I can't run at the moment!)
The final videos for this year were…
And I received four nominations!  I did not expect this at all.  I have had a rubbish year of running this year, only getting two PBs – one by just 3 seconds so that didn't really count! – and not completing my main race of the year.  Both marathon times were rubbish and I was disappointed that my hard work hadn't resulted in a PB.  I have continued to give running and the club my all though and this has obviously been noted!  The comments written about me were:
*1* Mary contributes on both sides of the club – as a committed runner(marathons, ultras, blog worlds!) and as a committee member. She just quietly gets on with it, achieving her goals and helping whoever needs it. She's a great ambassador for WDAC.
*2* For having the guts to try New things that she has never done before.
*3* Mary is a fantastic ambassador for the club.  She has amazing determination and is dedicated to setting and achieving her goals.  A non runner to ultra runner in two years!!  She's just such an inspiration to me and I'm sure to many others.
The fourth person did not leave a comment.
The two people that won very definitely deserved to win.  James has gone from Group 5 up to Group 1 with the club, and his GNR time improved from 2:25 – 1:32 over the course of the year!  Dawn has achieved a PB at every single race distance this year, including taking off more than 20 minutes of her marathon PB.
I love making the videos and seeing everyone's reactions on the night.  I'm glad this has been made my forever role!