When I told my future Maid of Honour, Hollie that I was getting married she put together a lovely parcel for me filled with wedding magazines, planners, coloured felt tips, post-it notes, wedding doodle books, chocolates and business cards from local wedding companies.
When she moved into her first owned house a couple of weeks ago I knew that I wanted to put together a pack for her too, having gradually collected items since she first told me she was going to be moving.
The first item I picked up was this spoon which I found on a stall at the NEC craft show back at the start of November.

I decided that most of the presents should be practical, and as Hollie is a non-drinker and had killed all plants she was given when she moved into her flat a few years back there would be no alcohol and that no plants would make it into the pack!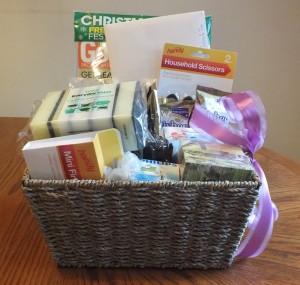 In the bathroom basket I packed the following:
* A Good Homes magazine
* Paint tester cards
* Scissors
* Loo roll (always vital!)
* A first aid pack
* Spare change
* Sellotape
* Washing up sponges
* Teabags* 3 bags of chocolate stars (for Hollie, her husband and little boy)
* Clothes pegs
* A lightbulb
* Colouring book for her little boy to keep him amused whilst they're painting
* Rubber gloves
* Air freshner
* A pot of safety pins/paper clips
* Sugar
* Party poppers
* Wooden moving spoon
…and then tied a ribbon on the side!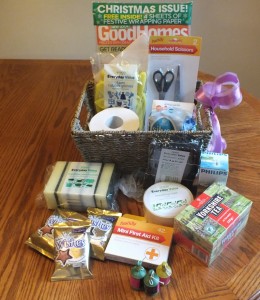 It seemed to go down well even if it wasn't the most exciting of gifts like the gift baskets in Ottawa that we saw recently!
On a completely different note, Dan and I headed to our friend Vicki's house with several of our other friends last weekend for a 'Christmas brunch'.  This has become tradition over the past few years and is basically an excuse to eat a lot of cheese and crackers and wear Christmas jumpers…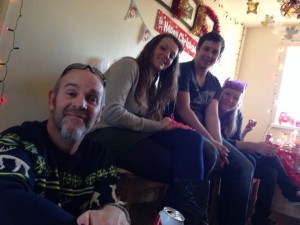 Check out the beautiful cake they had for the event!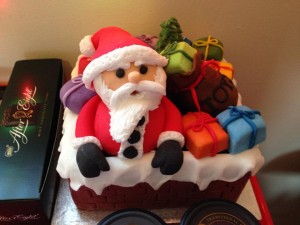 If only I liked Christmas Cake!  Although whoever got the section with Santa on would have gone into a sugar-coma from all that icing!