(Ignore the mess in the background…)…This is what a HAPPY runner looks like!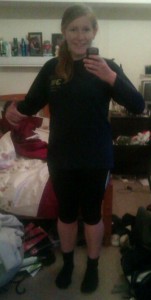 I went to see the physio yesterday lunchtime after not being able to make my appointment last week.  He was really happy with my progress and my leg and hip position were both looking much better during squats than last time he saw me so I have been allowed to run 3-5 miles every other day for the next few weeks.  Hopefully, if all goes well I shall be able to return to my marathon plan early in the New Year!  I'm still not running right and it's going to be an ongoing process of teaching my right leg how to behave and which way to point (forwards!) but my month of strength exercises, practicing walking and hours and hours on the bike has paid off!  As soon as I got home I was charging my Garmin and throwing my running clothes on and I headed out for a steady 3 miles at 10mm pace.  It felt GREAT to be back!
In the evening we headed out to the pub quiz.  This has become the norm for us now on a Monday night.  And we're always last.  By quite a long way…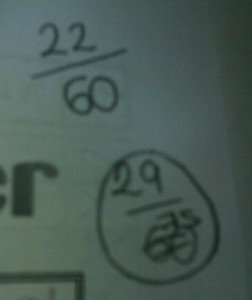 One day we will win!  (Winners usually get around 60 marks!)
As we left for the pub last night Bella decided to follow us up the road.  She's never done this before and is normally perfectly happy playing in our back garden and in the fields behind our house.  However, she made it all the way to the end of our road before we walked back to put her inside.  She refused to go in the house and instead followed us once more up to the top of the road.  I told Dan to walk as quickly as possible and to ignore her no matter what she did.  She continued running after us and every so often would sit down on the road and meow from behind.  Then up she would get again and we would hear the tinkle of her bell as she chased after us!  In the end I took her back home, gave her some Dreamies (these are cat HEAVEN!) and picked her up for a cuddle.  Normally she'll let me hold her for about half a minute until she squirms to be put down again.  This time I was cuddling and kissing her for minutes!  She was being very cute last night!