Ever since I heard I could run again at the start of the week I had been looking forward to this morning.  The physio had told me to run every other day between 3-5 miles and gradually build up a longer run at the weekend until I saw him in mid-January.
Kev had arranged a lap of the Wellingborough multi-terrain course this Saturday to show those that hadn't run it before (including me!) the route – so several club runners were making their way over to the Country Park to join in the muddy fun.  The race is run on three weekends towards the start of the year, and runners can race either 5k, 10k or 15k by running 1,2 or 3 laps.  I will hopefully get to race all three distances.
As a multi-terrain route the course does include large hills both up and down, tree roots to duck and climb over and lots and lots of mud!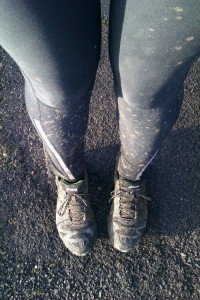 This was me at the end of my run this morning!
I was a little wary about going over on my foot, as I knew it would be pretty muddy out today!  But also knew that the softer ground would be much better for my foot to run on, rather than the roads and the constant shock of landing vibrating through my damaged side.  I tend to plonk my feet down pretty hard!
In the end there were six of us headed out for the run – all of varying speeds.  We always run at the speed of the slowest person, and that, along with the tough terrain meant that we didn't cover many miles, which suited my recent problem fine.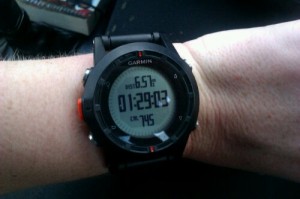 Although my Garmin shows 6.57 miles, I actually parked a little way away from the meeting point and walked the first mile on the Garmin before the run began.  When I first woke up this morning my foot really ached in an 'I feel old' kind of way.  At one point I thought I was going to have to abandon the planned run, but after a little pottering around at home (always pays to get up early!) and my mile warmup I could no longer feel the niggle and my 5.57 mile run went without hitch, with my foot still feeling fine by the end of it.  This is very good news!
After my run we completed our Christmas shopping (finishing much earlier than our usual December 24th!) and then popped in on Dan's sister and children to deliver their presents.  Whilst we were in town shopping we did manage to finally purchase our wedding rings which will arrive on the 28th December.  Here's my one!…