I've never been to a wedding before where they served yorkshire puddings as the starter!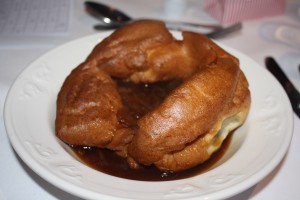 Yesterday Dan and I headed to West Yorkshire for our friends Stew and Julie's wedding.
Stew also went to the same University as us although he had finished his course before I ever met him but continued to visit some of his uni friends, which included my friends Vick and Al.  So I got to know him through them.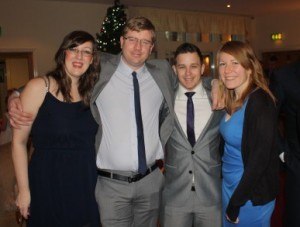 They had a fantastic cake topper made…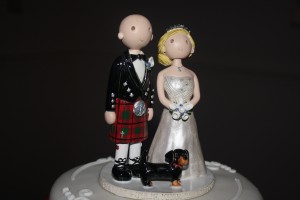 …and then Dan had his pre-arranged dance with Julie as they had agreed months ago that Stew couldn't actually dance so Dan would step in!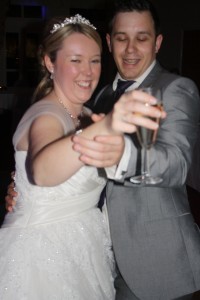 Unfortunately I did manage to slide over and rip my tights when we left.  (And I'd only had one glass of wine!)  It was super icy and cold outside last night.  Check out how frosted over my car was!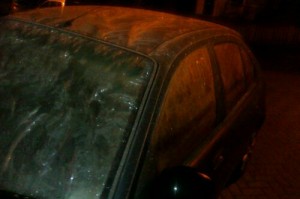 A stranger actually picked me up off the ground and got me over to the car as Dan was carrying armfuls of Christmas presents and the stranger got to me first.
Of course when I fell it was onto my right knee and landed back onto my right bum cheek.  I thought I couldn't damage my right side anymore, but I got that wrong!  Luckily my knee was only scraped, not pouring with blood and today my bum has just been a little tender on that side.
This morning my parents drove down to look at a house Dan and I are hoping to put an offer on.  It is only a few miles up the road from our current house but needs a lot of work doing to it, with the opportunity to make it into something much more than it currently is.  Hence a low asking price and the attraction to us!  When we bought our current house at the end of 2010 it was a repossession, and using my Dad's knowledge from days of working as a self-employed builder and electrician between the two of us we knocked through walls, extended and for a while I lived in a house that looked something like this…!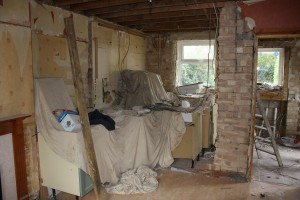 The not so fun part of doing a house up!
Parents coming to visit meant a mad rush round tidy-up session this morning.  It doesn't matter how clean I get the house, my Dad always spots something to comment on.  This time it was the fact that I still needed to paint my porch door.  I did know this, but wasn't prepared to get the paint pot out at 7am this morning!
I offered to take them out to lunch for coming over to give the house a once over for us and knew exactly where I wanted to go…Beckworth Emporium.  Normally in the Winter Dan and I head over to skate one evening on their outdoor icerink, but having both damaged legs/feet this Winter we decided to give it a miss this year.  The food is always lovely, and I have always looked on at the beautiful platters that are delivered to tables, knowing Dan wouldn't touch them as they all contain too much fruit or vegetables.
Today was my chance to try one out though, and Dad and I split a Deli Platter.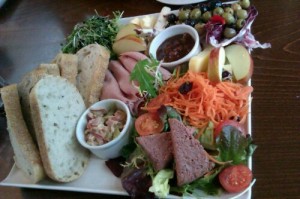 It was AMAZING!  Smokey blacky ham, Wurst salad, Brixworth pâté, Stilton, Wensleydale Winter Warmer with cranberry cheese and Wookey Hole Cheddar, served with dressed mixed baby leaves, our own marinated olives, "Forest" Special Real Ale Chutney, fresh slices of Cox Apple & "L a Brea" bread.  I was nicely full by the end.