Christmas week always turns into a manic one for us.  Dan is originally from Wolverhampton and I'm from Norfolk so right from the very beginning of our relationship we decided to spend Christmas Eve and Christmas Day with one family and Boxing Day and the 27th December with the other.  We alternate each year.  Because of the distance it's just too hectic to try and visit both sets of parents on the 25th, and we wouldn't have enough time to drop in on Aunts/Uncles/Cousins etc.
This does however mean a lot of driving for us.  More so this year as on the Saturday before Christmas we drove to Lincolnshire to visit Dan's sister and her kids, on the Sunday we drove to Yorkshire for a wedding, Tuesday and Wednesday was spent at Dan's parent's in Wolverhampton and Thursday and Friday at my parent's in Norfolk.
Yesterday and today has been spent doing some much required slobbing in Christmas jumpers…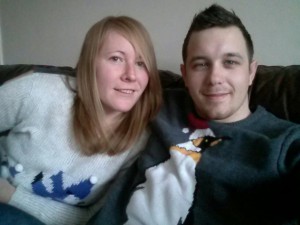 And spending time with the other important member of our family – Bella…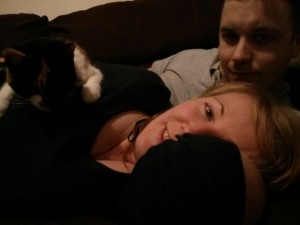 When she sleeps on us in front of the TV, she has to be touching us both somehow…even if it's only by a paw!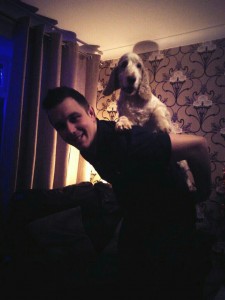 Dan's parents have dogs (two crazy dogs!) and Dave spent a lot of Christmas Day jumping on Dan's back for a ride!
I managed to get a 4 mile run in on Christmas morning.  I got up super early so that I wouldn't miss out on any Christmas day fun, but once I returned to the house, I had had my shower and sat around downstairs for an hour before either Dan or his Dad got up out of bed!
One of my favourite running club social traditions is the Christmas Eve run.  Up to 100 runners from our club head to the local country park wearing various santa hats/reindeer ears, etc. and spend up to an hour running around in groups of mixed abilities before returning to the cafe for a free sausage bap and hot chocolate.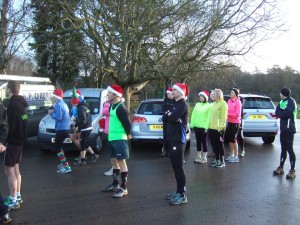 Kids, partners and dogs are all invited to join in on the run and people run anything from 1 mile to 7 before the temptation of the hot sausage bap calls them into the cafe!  I think I ran just over 6 miles before heading in for my roll.  (Forgot my Garmin!)  It's so lovely to be able to chat to people from different groups within the club though and find out what their running goals for the year ahead are.  I ran with the hardcore mud crew and ended up covered…
The run turned into a massive see-who-can-splash-the-most-mud / see-who-is-bravest-enough-to-run-through-the-deepest-puddles hour and I spent a lot of the time giving my stomach muscles a great workout from laughing so hard!