For the last six months I have had a mild confusion over the date, often already writing 2014 at the end of cheques, whilst marking books or on the board at school!  Ever since we started booking bits for our wedding (date: 09/08/2014) my head has registered 2014 as the year we are in.  Hopefully I don't now return to writing 2013 on everything I do!
Last night we saw the New Year in at a house party in Birmingham with some of Dan's friends.  More to follow tomorrow once I've gotten a look at the pictures.  We had a great night – I much prefer house parties with friends to rubbish nights out in clubs with expensive drinks.
Today has been a day for sorting wedding finances (we have finally booked a band!) and spending a little time together before Dan returns to work tomorrow.
I have decided to sign up to both Jantastic and Janathon this month.
For those that don't know, Janathon is all about exercising every day (mainly running) and blogging about it.  (I usually exercise most days anyway, although my blogging has been a little intermittent just lately and I could do with a kick back into gear again.)
Jantastic is run by the guys of Marathon Talk and actually runs over three months.  The first month requires you to set goals for the number of runs you plan on completing each week, the second month you decide how long your longest run each week will be.  Then, during March, you run or race over a certain distance and estimate what time you will finish in.  You can also set up groups for Jantastic, and my running club have set up one which I have joined.  If you fancy joining a blogging group, Maria has set up Team Run Blog Bake.
So, here I am on Day 1 of Janathon and 2014 and I decided to check out how my foot felt running on road again.  Since returning to running after my recent injury I have only run on trail, or on routes with very limited road work and whilst I much prefer this type of running, London marathon is less than 15 weeks away now and to my knowledge there are no muddy trails in sight for this race!
I decided to take it nice and steady, using my first mile as a warmup and reassessing my foot as I went along.  Luckily my foot felt the best it has done yet though.  I stuck to 4.72 miles, one of my favourite road routes I often run and purposefully did not check my watch along the way.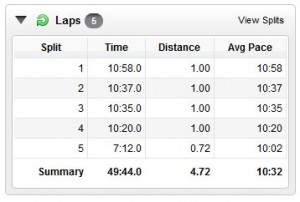 I even unknowlingly at the time managed one of Maria's 'Royal Flush Negative Splits', with each mile getting faster than the last.
The first two miles were tough.  I knew my body was fit enough, I knew my lungs could handle it…I had to remind my head that it could put up with the running though!
After mile two it began to get increasingly easier and I was holding myself back at the end – having to talk myself out of going round the course again!
I had headed out in my glasses – something I don't often do.  I know many people prefer to wear glasses over contacts, but the heavy rainstorm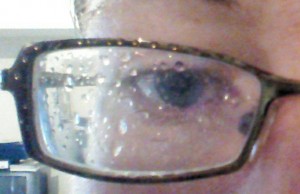 I ran through reminded me of just why I tend to stick to contacts!  I could barely see by the end of the first mile.  It wasn't long before it was hailing though and if I had been wearing contacts then it would have whipped them right out of my eyes.  I'm too much of a wimp to ever have laser eye surgery but there would be some very big benefits to it!
Whilst chatting to some other runners last night at the party I mentioned that I had run on Christmas morning and they were horrified that I had used some of my precious Christmas Day time going out for a run!  I love running and heading out first thing on the cold morning – wishing dog walkers and other runners a Merry Christmas was the perfect start to my Christmas Day.  Running on New Year's Day (and Eve!) also happened.  And, advance warning: I also plan on running on Valentine's Day, my wedding day and my birthday!
Is anyone else signed up for Jantastic/Janathon?…