Janathon: Day 2!
So this afternoon I had planned a run with my friend Hayley.  6 miles (It became 5) and in the daylight (but it quickly got dark).
I took her around my 'safety flat route' I tested my foot on the other day.  She was running a little late and we ended up not setting off until about 4:20pm.  Although we were both wearing hi-vis vests neither of us had a headtorch on, but the roads around where I live are pretty quiet and we had plenty of time to hop up onto the verge when we spotted a car in the distance.
Running with someone helps you to stop thinking about your breathing, your injuries and how tired you feel.  You just run! (and of course catch up with the gossip!)
It wasn't until I got back home again that I realised I had managed another 5 mile road run without a single teeny tiny niggle from my right foot.  Happy times!
I'm hoping for a steady Parkrun this Saturday, and a really easy 10 miler on the Sunday as per my marathon plan for week 2.
Whilst doing the monthly shop in Tescos before the new year, I spotted these packs.  Each filled with veg and three packs for £4.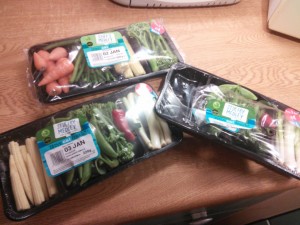 Bargainous!  I love vegetables, especially the sort you can have alongside mashed potatoes and gravy.  Dan isn't a big veggie fan – sticking to just peas and carrots.  The same two veg every single night gets boring after a while so this week I plan on mixing my dinners up a little with the corn, sugar snap peas, chilli, spring onions, runner beans and carrots I added to my trolley.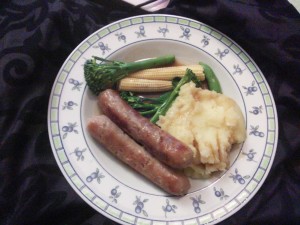 This was tonight's tasty treat!  I could easily live without meat but definitely not without vegetables!  In fact, both at the wedding we went to last week and both Christmas dinners (one at Dan's parents and one at mine) Dan gained my share of the turkey and pigs in blankets so that I could stock up on veggies!
On Monday night we headed to the cinema to see The Hobbit: The Desolation of Smaug.  Mum had given Dan a £30 gift voucher for Christmas.  We both love going to the cinema and it used to be something we did regularly when we lived in Stafford, – the cinema was much cheaper there.  Our nearest cinema now is about 15 miles away and so expensive.  The two tickets came to £19, and then as we hadn't had much dinner we also grabbed a drink to share, I had an icecream and Dan had a hotdog.  The £30 giftcard did not cover our cinema trip and the evening came in at £30.80!  Although I love the atmosphere of watching things on the big screen and nibbling on smuggled in pic 'n' mix we need to be much more choosy between what we see at the cinema and what we buy for £3 for a popcorn night in 6 months later on!