Firstly, my exercise for Jantastic…
Fridays are normally my rest days from running. I had planned on doing an exercise DVD but when I looked outside and saw how lovely and sunny the afternoon was I decided to go for a 90 minute walk instead.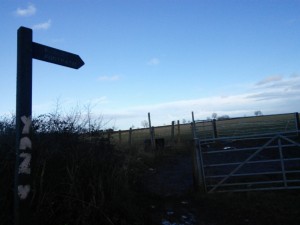 It's rained quite a lot lately and the tracks around me were really muddy. I wish I'd worn my trail shoes!
Two runners came past with their son on a bike. I've decided that when we have a family it's definitely going to be an active one. I used to love going for bike rides or walking the dog on the beach with my family when we were younger.
I treated myself at lunch again… More lovely veg (spring onions, corn, sugar snap peas, broccoli and a chilli) cooked in a tomato sauce and topped with Wensleydale and cranberry cheese melted onto the veg. Very yum!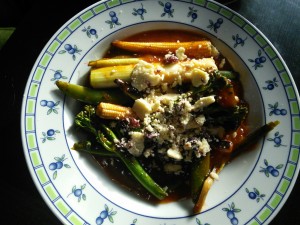 Right, onto the new year resolutions…
I debated for quite a while whether or not to make any. I don't like the idea of failing or stressing myself out over achieving something which might not be possible in six months time or might no longer be of great importance to me.
This is going to be rather a busy year anyway with London marathon, a few ultras, getting married, becoming an Aunt for the third time and turning 30 at the end of October.
Therefore, this year I have decided to set some New Year Guidelines instead that I will try to bring into my lifestyle but won't beat myself up over if they don't work out.
#1. Go on more walks.
Before I was a runner I used to walk everywhere. Now, I just don't. I love running but you don't always get to see what's around you and at times it can get lonely. I love that I can go for a walk with Dan in an evening or out with a group of friends along the beach (when I'm staying at Mum's). Friends don't need to be big exercise lovers to go for a walk.
#2. Do more in the evenings.
When I was working at my last school I was often up at 5am and would work through til 7pm. On evenings when I wasn't out on a planned run I would then end up plonking myself down on the couch and stay up watching DVDs with Dan until bedtime. Even though my new job is no longer quite so demanding (despite now being Head of Department) I've tended to stay in this last mode each night rather than getting on with things and moving around.
#3. Become more organised with my online life.
This includes organising the files on my laptop. I have become that person who has so many desktop icons on her screen they're now onto of each other!  Last month I used Unroll.me to unsubscribe from 74 mailing lists and it made me realise just how clogged up my inboxes were.  I'd like to be one of those people that when they receive a new email in their inbox that is the only email in their inbox!

#4. Become more relaxed with my running.
Without obsessing over time or mileage. Running is my hobby and I need to ensure that I continue to enjoy it.  Yes, I love getting a PB but PBs will come from the hard work put into training.  As long as I know I am training strong and well I'd like to not worry too much about the number of miles I run in a week or how long a rubbish run took me or not stress over not getting a new PB.
#5. Keep on top of the housework and declutter as I go.
I've become much better at this since going part time.  Seriously, friends that came to visit would only be allowed to sit on certain seats or in certain rooms and if it was an unexpected visit I would keep them at the door!  I used to be so embarrassed especially when Mum was pretty ill and I spent all of my weekends travelling to Norfolk, rather than hoovering or washing up the ever mounting pile in the kitchen!
I feel like there are so many other things I could improve on or adapt into my life but these five will give me plenty to work on for the next few months at least!