My foot was a little achy this morning after my slide down the stairs last night. Thankfully it had 'manned up' enough for me to join in with the 75min trail run tonight that Kev had laid on for us so that is what I did!
We ran just under six miles along some very, very muddy fields.  One of the muddiest routes I've ever run I think!  Here is the evidence…!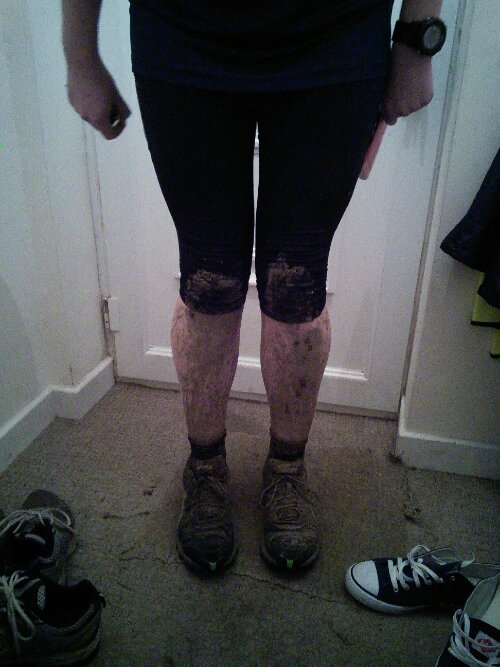 I wasn't allowed any further in from the door than that and had to undress right there and then!
About three miles into the run I was happily ambling along through a nice long puddle when all of a sudden my left leg disappeared from underneath me and I was in up to my knee!  I had to use my hands on the 'bank' to scramble back up again.  It was literally like the famous scene in Vicar of Dibley.
I hadn't expected that drop at all and spent the rest of the run with  my hands covered in flaking mud and my legs starting to peel!
I have produced a rough marathon plan for my London attempt based loosely on the Runner's World sub 4h30m plan. Although I have added in two extra runs each week so that I will be running six times each week instead of four. This worked well for me when I was training with the Operation Ultra team at the end of last year. The basic week will look something like this…
Monday-easy 3
Tuesday-speedwork session at club
Wednesday-1-2hrs trail
Thursday-tempo run at club
Friday-REST!
Saturday-Parkrun/cross-train/easy 3 dependent on whether racing or not on the Sunday
Sunday-long run or race
I don't envisage finishing sub 4:30 but hopefully training at sub 4:30 paces (which I should be capable of) will finally get me a sub 5 time and one that I am truly happy with.