Day 11 of Janathon | Day 4/5 of Jantastic .
I went to bed last night with my alarm set for 5:30 but I woke before then. I'd invited myself along on a 10 mile run held by the group sixes this morning although I almost didn't make it because I'm rubbish with directions when in a car. Luckily I did rock up before they all left and we set out on an incredibly hilly ten miler. Even hillier than last week's long run!
Running with runners from the group below me was great and I didn't feel the pressure of having to keep up the pace which was a lovely change.
The pace was slow, but consistent which is the best way to run…much nicer than a speedy beginning and a gradual decline throughout the run.  I ended up running 10.35 miles as I turned back several times to pick up the back runners.
In the middle of my rushing around this morning to throw on my running clothes I discovered that my favourite purple Nike tights hanging on the clothes horse were still wet so threw on an old pair instead.  A pair which had a small hole in the crotch.  I didn't think anything of it really, other than the possibility of drivers getting a glimpse of my bum as I ran past (better pick up the pace!) but that was a big mistake!  I was OK for the first five miles, but from then I could feel the hole gradually getting bigger and bigger.  The tops of my legs began to rub – it was feeling pretty sore towards the end and as I leaped into my car at the finish I spotted that the hole had grown to about three inches across and I had rubbed the tops of my legs raw on each side.  Somehow I had managed to block the pain out whilst I was running, but from the post-run shower onwards I was rather uncomfortable every time my legs touched!  Unfortunately I don't think I will be able to  make the cross-country tomorrow, but will still get out for a run one way or another when sudocremed up!
I managed to resist the urge to doze for a few hours after my run this week but stuck with what has now become the long run tradition of pancakes after the run.  Pancakes with blueberries are the very best sort!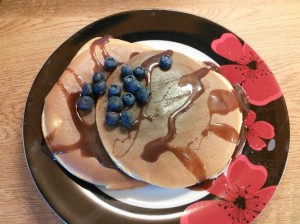 This afternoon whilst Dan was at football I spent about three hours cleaning the house as we have an estate agent coming to look round on Monday.
Then this evening I have been trialing different ways to create the invitations for our wedding.
This started at some point last week and I managed to buy a box of 300 sheets of brown card and 200 of yellow for a fairly cheap price.  The card arrived yesterday, so as soon as there was some table space I managed to sneak in another designing session!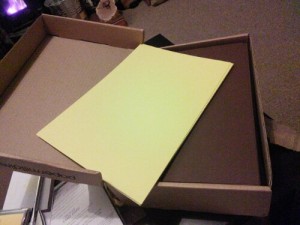 I think we have the basic idea sorted…a brown layer that wraps around the information and is tied in place with a yellow ribbon.  Inside, yellow cards give details of the wedding.  The mock-up I made last week was small and the stamp I embossed on the front fitted just right, however it doesn't fit quite so well when it's created as the larger version.  Still needs some tweaking!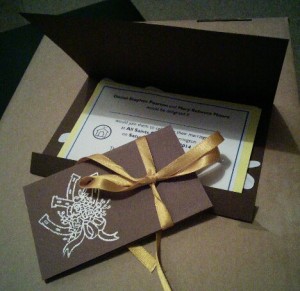 Did you make your own wedding invitations?  And more importantly, how many did you have to make and how long did that take you?! – I think I need to make about 75 in total and  I assume I will have no more free weekends before the wedding!