Here is a little sneak peak at my wedding dress…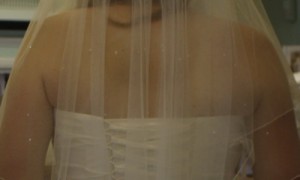 …well, only the back!
But you can see that the top of my back and my arms will be on show on the day and that they're not particularly toned at the moment!  It would be nice if they weren't too 'flappy' on August 9th…
I have been toying with the idea of CrossFit for a while now.  Several bloggers swear by CrossFit to tone up.  I've already said that I'm not hugely worried about losing weight before my wedding, unlike a lot of others.  But I would like to tone up my back and arms before the day.  I have always been weak in the top half of my body and even when I was little was never been able to go along the monkey bars in the playground.  As I got older, I couldn't complete a pullup despite the least fit of my friends being able to attempt something resembling the move.  In the end I gave up and stuck to cardio exercise.
Last week I sent out a tweet asking if people thought CrossFit was worth the money.  I couldn't believe that it was £58 per month for the cheapest membership (3 sessions per week) in my town.  That's not too far off our food shopping bill!  My local CrossFit place has now also set up a pay-as-you-go session which is only £10 a time but I doubt I would get results from one session a week, and that would still be much more than a gym membership!  I think there's a strong chance I will sign up but a little closer to the Summer, when the nights are light again.
I had a quick scan on youtube for CrossFit videos, as well as reviews on P90X3 vs Body Beast, and there are are a few out there.  I thought this video was quite good at showing the results…
My problem is, if I intend on trying CrossFit from the comfort of my home at some point (for free!) that I will worry that I am not performing the exercises properly and will end up injured, or doing no good.
Have you ever tried CrossFit?  How often did you go?  Did you do any workouts at home?  Any youtube videos to recommend?